Beartooth Bank is a community owned bank. With the style and personality unique to a community owned bank, our mission is to best serve our customers, community and shareholders by continually implementing strategies that will allow us to operate at the highest level of excellence.
Bank Official Website:
• www.beartoothbank.com
Bank Customer Service Telephone:
• 1.406.294.6500
Bank Routing Number:
• 092905469
Bank Swift Number:
• This BANK is not part of the SWIFT network, so there is no number.
Online Banking Mobile Apps:
• No Mobile Apps Available
Branch Locator:
• Branch Finder Link
HOW TO LOGIN
Step 1 – Go to www.beartoothbank.com – In the "Online Banking" box on the upper left side of the page, enter your Access ID. Click "Login"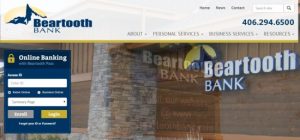 Step 2 – After entering your Access ID, you'll be taken to a second page designed to keep your password secure. Enter your password. Click "Submit."

Step 3 – Once you've entered your login credentials, you will be directed to your Online Banking page where you may do conduct any online banking transactions and/or reviews.
Forgotten Password – If you aren't able to recall your password, you may reset your password information online by first going to the "Forgot Password?" page. Complete the required information. Click "Submit"

As you submit your information, you will then receive an email to the email address you have on file with the bank that will contain your password. You will then gain access to your account and may resume your banking business.
HOW TO ENROLL
Step 1 – If you would like to enroll in online banking services, prior to proceeding with enrollment, you must first go to the "Service Agreement" Once you've reviewed the agreement, at the end of the page, you must click "I Agree."

Step 2 – After you've agreed to the terms and clicked the agreement button, you will next be taken to and enrollment form. Enter all of the information required. Click "Submit"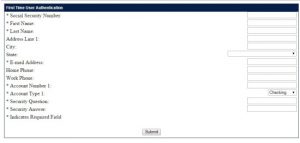 Step 3 – Once you've completed all of the steps to enrollment, you will then be able to login to your Online Banking services to review balances and do any banking transactions.