Blackhawk Bank operates as a bank. The Bank accepts deposits, makes loans and provides mortgage solutions, card facilities, and online banking services. Blackhawk Bank conducts its banking operations in the United States.
Bank Official Website:
• www.blackhawkbank.com
Bank Customer Service Telephone:
• 1.608.364.4534
Bank Routing Number:
• 275971854
Bank Swift Number:
• This Bank is not part of the SWIFT network, so there is no number.
Online Banking Mobile Apps:
• iPhone
• Android
• iPad
Branch Locator:
•Branch Finder Link
HOW TO LOGIN
Step 1 – Go to www.blackhawkbank.com – Under "NetTeller Login," located on the lower left side of the home page, enter your User ID. Click "Login"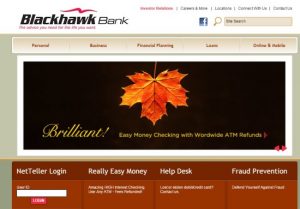 Step 2 – You will then be taken to a separate and secure page where you will enter your password. Click "Submit"

Step 3 – As you enter your online banking login credentials, you will then be directed to your Online Banking page where you will be able to do any reviews and/or transaction at your convenience.
Forgotten Password – If you find you cannot recall your password, go to the "Password Page Self Reset" – Enter the required information into the boxes provided. Click "Continue"

From here you will be prompted to complete the security steps required to reset your password. Once complete your security steps, you will have the ability to reset your password and thus regain access to your online banking account and resume your normal banking reviews and transactions.
HOW TO ENROLL
Step 1 – When you're ready to enroll in online banking services, start by going to the "Online Banking Application" page. Included in this process will be review and agreement to, the Terms and Conditions contained in a link at the bottom of the page. The terms in this agreement will cover both mobile and online services and agreement to both of these services.
Step 2 – Once you've reviewed the terms, click "I Agree." This action will immediately take you to the first step of the enrollment process. Enter the required information. Click "Continue"

Step 3 – From here you will be prompted, privately, through the enrollment process. Once completed, you will then be able to login to your Online Bank account services 24/7/365 to transact any of your banking business.