Biscayne Bank is a Florida chartered commercial bank that offers deposit, investment, and loan services to individuals and business entities in the United States and abroad. The company offers domestic checking, NOW, money market, and savings accounts; time deposit accounts and MasterCard check cards; and consumer loans, time deposit loans, automobile and boat loans, home mortgages, and commercial mortgages. It also provides online banking and bill payment services, wire transfers, and official checks, as well as foreign collections of checks, drafts, and invoices.
Bank Official Website:
• www.biscaynebank.com
Bank Customer Service Telephone:
• 1- (305) 447-5050
Bank Routing Number:
• 066015767
Bank Swift Number:
• This Bank is not part of the SWIFT network, so there is no number.
Online Banking Mobile Apps:
• iPhone
• Android
• iPad
Branch Locator:
•Branch Finder Link
HOW TO LOGIN
Step 1 – Go to www.biscaynebank.com – In the "Online Banking & Cash Management" box, on the top left side of the home page, enter your User ID. Click "Go"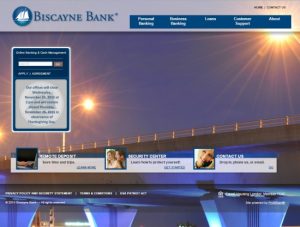 Step 2 – After submitting your User ID, you will then be guided to the next step of the login process by going to the "Login to Online Banking" page. You must verify the image on this page that you selected at enrollment. If the image is correct, enter your PIN. Click "Submit"

Step 3 – When you have successfully entered your online banking login credentials, you will be directed to your Online Banking page. You may now access your account 24/7/365. If you enter the page and discover that there is no image present or your selected image is incorrect, do not enter a password but make contact with a banking representative immediately.
Forgotten Password – If you find you are unable to remember you PIN, begin by going to the "PIN Page Self Reset." Enter the required security information in the boxes provided. Click "Continue"

Upon continuation, you will be prompted through the remainder of your PIN reset process. After you've completed all procedures, you will regain access to your account and may resume your Online Banking business.
HOW TO ENROLL
Step 1 – If you're ready to apply for online banking service, this bank will require that you contact the bank and speak with an account officer at any location near you. Your account officer will assist you with the complete enrollment process. This is designed to keep all of your banking information protected and only between you and the bank.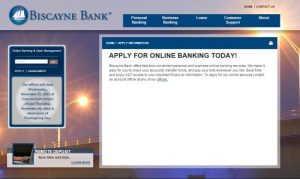 Step 2 – Once you've made contact with an accounts officer and have enrolled in online banking services, you will then be able to login to your Online Banking account and conduct your banking business, 24 hours daily, any day of the year to include banking holidays.