1st Capital Bank operates as a full service commercial bank. The Bank provides banking services such as deposit, cash management, and credit products to small and mid-market businesses, service professionals, commercial property owners, and residents. 1st Capital Bank also offers advisory services. 1st Capital Bank serves customers in the State of California.
Bank Official Website:
• www.1stcapitalbank.com
Bank Customer Service Telephone:
• 855-203-6815
Bank Routing Number:
• 231387165
Bank Swift Number:
•This BANK is not part of the SWIFT network, so there is no number.
Online Banking Mobile Apps:
• iPhone
• Android
Branch Locator:
•Branch Finder Link
HOW TO LOGIN
Step 1 – Go to 1st Capital Bank's Website and input your Access ID and Passcode, then click Login to enter your account.
Forgot Access ID/Passcode – If you forgot your Passcode, you must reset it by clicking the Reset your passcode? link. After you click the link, you must provide your Access ID, TaxID/SSN, and Account #, then click Submit. If Access ID was forgotten, you must contact the bank's customer service department.
HOW TO ENROLL
Step 1 – Go to 1st Capital Bank's Enrollment Page by clicking the First Time Personal Enrollment link on the homepage. You will then be provided an Online Service E-Sign Disclosure and Consent, read it, then check the box and click I Agree.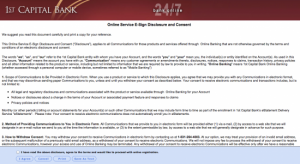 Step 2 – Repeat Step 1 for the Online Banking and bill Pay Agreement.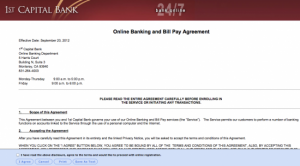 Step 3 – Fill out the Online Internet Banking Enrollment Form and click Continue.