The Brady National Bank offers personal and commercial banking services. The bank was founded in 1905 and is based in Brady, Texas. The Brady National Bank operates as a subsidiary of Texas Country Bancshares, Inc.
Bank Official Website:
• www.bradynationalbank.com
Bank Customer Service Telephone:
• 1-(325) 597-2104
Bank Routing Number:
• 111303492
Bank Swift Number:
• This Bank is not part of the SWIFT network, so there is no number.
Online Banking Mobile Apps:
• iPhone
• Android
• iPad
Branch Locator:
•Branch Finder Link
HOW TO LOGIN
Step 1 – Go to www.bradynationalbank.com – On the left side of the home page, in the "Online Banking" box, enter your Access ID then click "Login"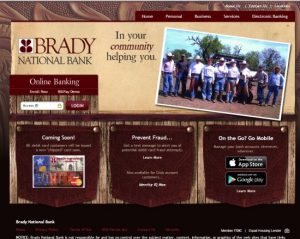 Step 2 – Once you've entered your Access ID, you will be taken to a separate secure page where you will enter your Password for the security of your information. Once you've entered your password, you will be able to enter your Online Banking Account services to review your account information and conduct any banking business you may need to complete.
Forgotten Password – Since there is no password, self reset, you must call the bank direct at 1-(325) 597-2104 for assistance in resetting your password. You will then be able to regain access to your Online Banking services to do your banking business
HOW TO ENROLL
Step 1 – Go to This Page – You may begin your enrollment process by reviewing the "Internet Banking Agreement." You will not be able to acquire an online banking account unless you are able to agree to the banking agreement. Once you have completed your review of the agreement, click "I agree"


Step 2 – After you've agreed to the Internet agreement you will be taken to the next stage of your enrollment process. Provide the following:
Choose your account type by clicking the appropriate bubble
Enter your Social Security Number (no spaces or dashes)
Enter your email address
Click "Continue"
From here you will be prompted, privately, through the remainder of your enrollment to protect your sensitive information. Once enrollment is complete, you'll have the ability to login to your Online Banking Account with an Access ID and password and begin doing your banking business online 24 hours a day