Eastern Bank provides banking products and services to individuals, families, executives, small-business owners, and not-for-profit organizations in eastern Massachusetts, and southern and coastal New Hampshire. The company offers checking, savings, certificates of deposit, and money market accounts; personal loans, such as installment loans, cash reserve lines of credit options, mortgages, and student loans; business loans, including term, small business administration, lines of credit, and commercial real estate mortgage loans; and debit and credit cards.
Bank Official Website:
• www.easternbank.com
Bank Customer Service Telephone:
• 1-800-327-8376
Bank Routing Number:
• 011301798
Bank Swift Number:
• EASRUS3B
Online Banking Mobile Apps:
• No Mobile Apps Available
Branch Locator:
• Branch Finder Link
HOW TO LOGIN
Step 1- Go to Eastern Bank's Website and maneuver your mouse to the far right of your screen.  Enter your HomeConnect user ID into the white text box just below the login icon.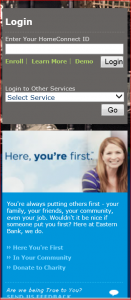 Forgot Username/Password
If you have forgotten your username or password, go to the web address  below to request a new ID.
https://www.easternbank.com/site/customerservice
HOW TO ENROLL
Step 1- Go to Eastern Bank's website and click on the green highlighted enroll text below the Login box on the far right side of your screen.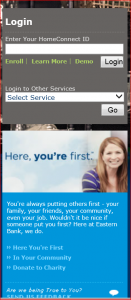 Step 2-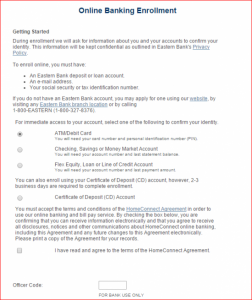 Choose which account that you would like to access with Eastern bank's online service.