As of January 1, 2011 Bank of Texas, National Association was acquired by BOKF, National Association. Bank of Texas, National Association provides banking services. It offers personal banking services, such as checking, money markets and savings, online banking and billpay, mortgages, credit and gift cards, loans and lines of credit, investments, online investing, and CDs and IRAs.
Bank Official Website:
• www.bankoftexas.com
Bank Customer Service Telephone:
•  1(800) 346-5312
Bank Routing Number:
• 111014325
Bank Swift Number:
• COTXUS44
Online Banking Mobile Apps:
• iPad
• iPhone
• Android
Branch Locator:
•Branch Finder Link
HOW TO LOGIN
Step 1 – Head to the Bank of Texas Home Page. Upon reaching the site, look to the top-left corner of the page and enter the Username and Password associated with your account. When you have finished entering the information, click the white "Login" button below the text boxes.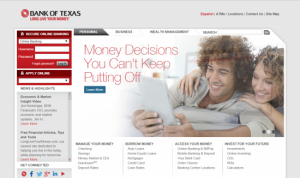 HOW TO REGISTER
Step 1 – Begin by going to the Bank of Texas Home Page. Once at the page, look to the left-hand side of your screen for the white, capitalized text that reads "Apply Online". Below this will be a drop-down tab. From the tab, select "Online Banking & BillPay".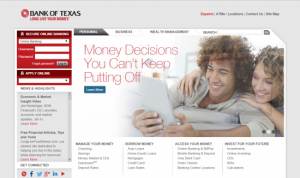 Step 2 – After being redirected to the next page, look to the right-hand side of the screen and select the bold, blue text that reads "Personal".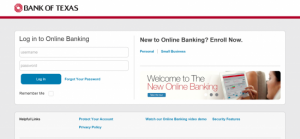 Step 3 – Next, scroll to the bottom of the page and select the blue "Agree" button.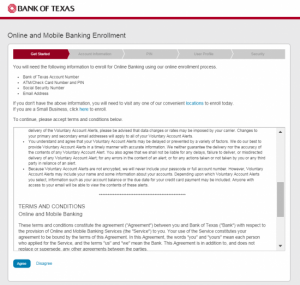 Step 4 – Now, enter the three points of required information, which consist of your Bank of Texas Account Number, your Social Security Number, and your ATM/Check Card Number. When you have finished inputting the required information, click the white "Continue" button. From this point on, you will need to follow the on-screen instructions displayed by the Bank of Texas. If you have entered and continue to enter the correct required information, you will submit an application for an Online Banking account with the bank.