Hancock Bank is currently rated as one of the most trustworthy banks in the United States. Recently merged with Whitney National Bank, the pair combine to hold over $20 Billion in assets, employ 5,000 individuals, and together span over the states of Mississippi, Alabama, Florida, Louisiana and Texas. Although Hancock Bank offers many great services to their members, one of the most useful is easily their Online Banking System, which allows users to check their balances and transfer their funds.
Official Website:
Bank Customer Service Telephone:
Bank Routing Number:
Bank Swift Number:
This BANK is not part of the SWIFT network, so there is no number.
Online Banking Mobile Apps:
Branch Locator:
Hancock Bank Online Banking Login
HOW TO LOGIN
Step 1 – To begin the login procedure, begin by navigating your web browser to the Hancock Bank Online Home Page. Upon reaching the site, look to the upper-right hand corner where two empty text boxes should be visible. Enter your Login ID and your Password and click the "Sign On" button. If entered correctly, you will now be logged into your Online Banking account.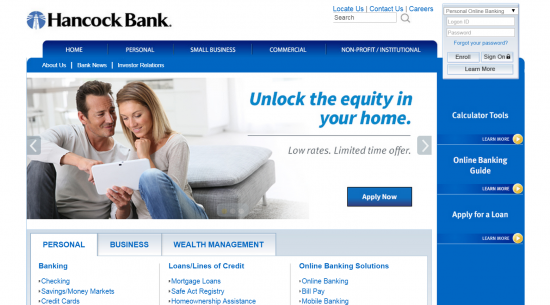 HOW TO REGISTER
Step 1 –  Go to the Hancock Bank Online Home Page. Once you have reached the page, look to the upper-right hand corner and select the "Enroll" button to continue.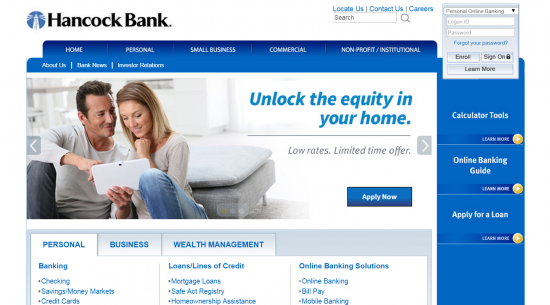 Step 2 – Next, click the "Enroll Now" button in the center of the page.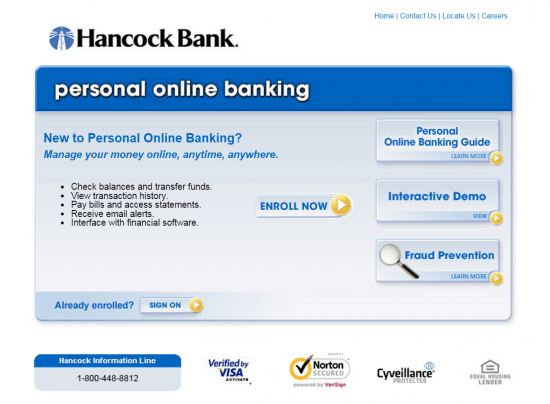 Step 3 – On the next page, select the bubble next to the text that begins with "I understand and agree…". Then click the blue "Submit" button.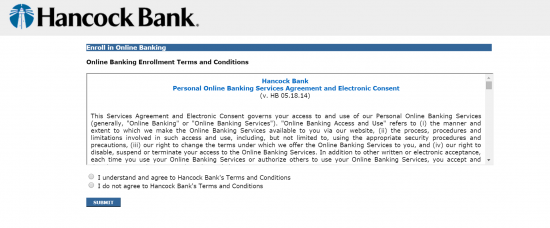 Step 4 – You will now be required to input your ATM or Visa checkcard number, your account number, and your Social Security Number. Once you have finished inputting the required fields, click the blue "Submit" button. From here, you will need to follow the required on-screen steps laid out by Hancock Bank to complete the registration of your new Online Banking Account.