Drayton State Bank offers personal and commercial banking services. The bank was founded in 1916 and is based in Drayton, North Dakota. Drayton State Bank operates as a subsidiary of Drayton Bancor, Inc.
Bank Official Website:
•www.draytonbank.com
Bank Customer Service Telephone:
•  1-701-454-3317
Bank Routing Number:
• 091309736
Bank Swift Number:
•This BANK is not part of the SWIFT network, so there is no number.
Online Banking Mobile Apps:
• iPhone
• Android
Branch Locator:
•Branch Finder Link
HOW TO LOGIN
Step 1 – Visit the bank's webpage and select the Internet Banking option on the left hand side of the homepage.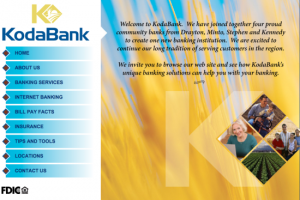 Step 2 – Insert your "User ID" in the appropriate space and click Continue to proceed to the next step in accessing your online bank account.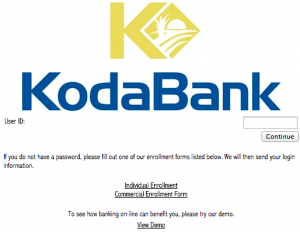 Step 3 – You will be asked a challenge question that must be answered with the information you provided when creating the account. After you have entered your answer, click Submit to advance.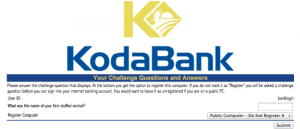 Forgot User ID/Password – Contact one of the following KodaBank offices if you cannot remember either your User ID or Password. A bank associate will then guide you through the process of recovering the forgotten information. Be prepared to provide certain personal information about your account so the bank can confirm your identity.
HOW TO ENROLL
Step 1 – Click the Individual Enrollment link to access the agreement page(if you have a commercial account, click Commercial Enrollment Form). Once at the agreement page, click I Agree to continue the process of enrollment.

Step 2 – Fill out the required fields for the enrollment form. This includes:
First and Last Name
SSN
City, State, Zip
Phone Number
Email Address
Date of Birth
Desired Username and Password
Once all information has been inserted, enter the "Security Value" and click Submit. The bank will then process the information for approval.