National Bank of Arizona provides personal and business banking products and services for customers in Arizona. Its personal banking products and services include checking and savings accounts, money market accounts, and certificates of deposit; personal credit and vehicle loans, including credit cards, personal loans and lines, auto loans, and recreational vehicle financing; mortgage loans and equity lines that include home mortgage.
Bank Official Website:
• www.nbarizona.com
Bank Customer Service Telephone:
• 602-235-6000
Bank Routing Number:
• 122105320
Bank Swift Number:
• NAAIUS51XXX
Online Banking Mobile Apps:
• iPhone
• Android
Branch Locator:
•Branch Finder Link
National Bank of Arizona Online Banking login
HOW TO LOGIN
Step 1 – Go to www.nbarizona.com – Enter your User ID and Password into the boxes located directly inside the "Online Banking Login" area at the top left side of the home page. Click "Go"
Step 2 – After you have entered your information and clicked "Go" you will be taken to your online banking page where you will be able to begin your online banking business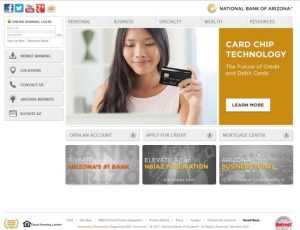 Forgotten Password – From the home page, just inside the "Online Banking Login" box, click the "Reset Password" link. You will be guided to the Password Reset page. After authenticating your identity by entering your Login ID, click continue and answer some security questions. Once you've been successful in answering the security questions you will be required to reset your password at the next login. At that point you will regain full access to your online banking account.
HOW TO ENROLL
Step 1 – If you are a personal account holder with the bank, go to This Page to begin the enrollment process. Online banking is available to personal banking clients who have a checking account, savings or money market account with the bank. You will need the following information for online enrollment and authentication:
ATM Card
OR
A Visa debit card
Either your debit or ATM card number
The last 4 digits of the account holder's Social Security Number
You will need to know the date and amount of your last deposit on the account you select to use to set up your online banking services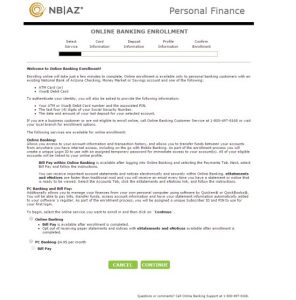 Step 2 – Begin by selecting the online service for which you wish to enroll. Click the bubble in front of your selection and click "Continue
Step 3 – From this point you will be guided through the remainder of the login process privately. Your next steps will be –
Card Information
Deposit Information
Profile Information
Enrollment Confirmation
Once your enrollment has been confirmed and is complete you may login with a User ID and Password to access and utilize your online banking services