Northern State Bank (Ashland, WI) is a community bank that offers an array of banking products to consumers and businesses. Its personal banking services include checking and savings accounts, debit cards, CDs and IRAs, E-Statements, and mobile and online banking services; and business banking services include business checking and savings accounts, online and mobile banking, business card services, and E-Statements.
Bank Official Website:
• www.nsbashland.com
Bank Customer Service Telephone:
•  715-682-2772
Bank Routing Number:
• 091206402
Bank Swift Number:
• This BANK is not part of the SWIFT network, so there is no number.
Online Banking Mobile Apps:
• iPhone
• Android
Branch Locator:
•Branch Finder Link
HOW TO ENROLL
Step 1 – Go to the "Online Banking" section on the upper, right side of the Northern State Bank's homepage. Provide your User ID and Password in the available spaces, then click the Login button.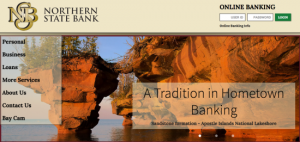 Forgot User ID/Password – Contact the customer service department of the bank if you cannot recall your "User ID". An associate will guide you through the process of recovering the forgotten information by first confirming your identity. If you cannot recall your Password, you must reset it by clicking the Reset Password link. Enter the following information:
Northern State Online ID
E-mail Address on File
E-mail Subject
Then click Continue to finish the process.

HOW TO ENROLL
Step 1 – Go to the "Online Banking" section at the bottom of the homepage. Select an application that applies to which type of account you have. (Personal Banking or Business Banking)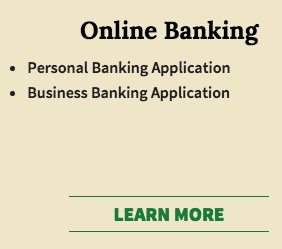 Step 2 – Read the "Northern State Online Agreement and Disclosure statement". If you agree, click I accept these terms.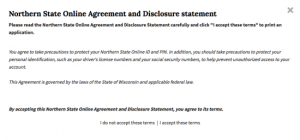 Step 3 – You will then be provided a PDF file (Northern State Online Internet Banking Application, Personal & Sole Proprietorship) that you must print out. After it is printed, fill out the form and bring it or mail it to your local branch to be processed.