People's United Bank, N.A. provides retail and business banking services, as well as wealth management services. The company's personal banking products and services include checking, and savings, and money market accounts; mobile banking services, online banking services, credit and debit cards, and individual retirement accounts; mortgage, home equity, and personal loans; advisory and wealth management services; mutual funds, annuities, 529 Plans.
Bank Official Website:
• www.peoples.com
Bank Customer Service Telephone:
• 1-800-894-0300
Bank Routing Number:
•221172186
Bank Swift Number:
• This BANK is not part of the SWIFT network, so there is no number.
Online Banking Mobile Apps:
• iPhone
• Android
Branch Locator:
•Branch Finder Link
HOW TO LOGIN
Step 1 – Visit People's United Webpage and insert your User ID on the left side of the page, then click Login.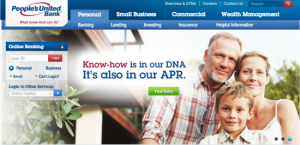 Forgot User ID/Password – If you forgot your User ID/Password, click the Can't Login? link in the Online Banking section of the homepage. This will bring you to a page that provides two links, one link to retrieve a forgotten User ID and another to retrieve a forgotten Password. If you forgot your User ID, click the Forgot Your User ID? link. You will then be asked to provide your email address and click Next. if you forgot your Password, click the Forgot Your Password / Update Contact Information? link. You will be directed to a page that requires your User ID, Email Address, and a Verification, then click Next.
HOW TO ENROLL
Step 1 – Visit People's United Enrollment Page by clicking the Enroll link in the Online Banking section.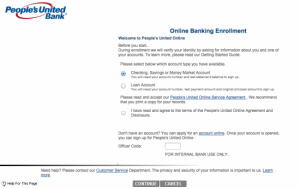 Step 2 – Choose which type of account you have, read and agree to the terms of the People's United Online Agreement and Disclosure, and click Continue.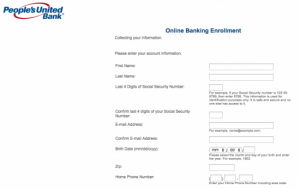 Step 3 – If you chose Checking, Saving, or Money Market Account, you will arrive at a page that requires certain account information:
First and Last Name
Last 4 Digits of SSN
Email Address
Birth Date
Zip Code
Home Phone Number
Account Number
Last Statement Balance
Enter the Information, then click Continue.