Signature Bank of Arkansas provides personal and business banking services in Arkansas. It offers checking, savings, money market, young investors, Christmas club, certificates of deposit, health savings, and individual retirement accounts. The company's lending lines include personal loans, lines of credit, auto and boat loans, recreational loans, mortgage loans, and home equity loans and lines; real estate loans, construction loans.
Bank Official Website:
• www.sbofa.com
Bank Customer Service Telephone:
• 479-684-3700
Bank Routing Number:
• 082908832
Bank Swift Number:
•This BANK is not part of the SWIFT network, so there is no number.
Online Banking Mobile Apps:
• iPhone
• Android
Branch Locator:
•Branch Finder Link
Signature Bank of Arkansas Online Banking Login
HOW TO LOGIN
Step 1 – Go to www.sbofa.com  – In the "Online Banking" box to the top right side of the home page, enter your User ID and Password in the fields provided respectively. Click the "Go" button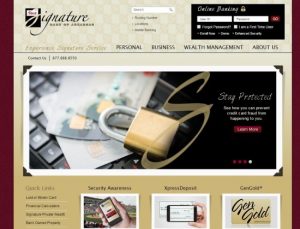 Step 2 – After you have entered your Online Banking login credentials, you will be directed to your Online Banking account. You will then be able to view and manage accounts and conduct any online banking transactions.
HOW TO ENROLL
Step 1 – If you are now prepared to enroll in online banking services begin by going to This Page – and completing all of the fields required, as follows:
Customer Information:
First name
Middle initial
Last name
Business name
Account holder's SSN
TIN if this is a business account
Address
City
State (select from the drop down box)
Zip Code
Home phone
Mobile phone
Work phone
Ext. for work phone (if any)
Email address
Driver's license number
Account holder's date of birth
Mother's maiden name
Amount of your last deposit or loan payment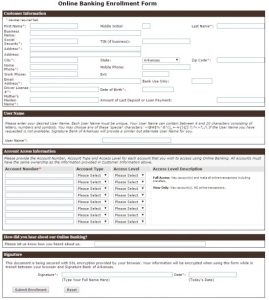 Follow the instructions to create a safe user name and enter it into the field provided in the "User Name" box
Account Access Information
You will need to provide the following information for any account you would like to access, review and/or manage using your online banking services. Provide the following:
Account number
Account type (select from the drop down box)
Access Level (select from the drop down box)
How did you hear about this bank's online banking?  Answer in the field provided inside the box
Signature
Type your full name in the Signature field
Type today's date in the "Date" field
Your information will be secured by encryption while the document is in transit
Click "Submit Enrollment" at the bottom of the page.
You will then be guided through the remainder of the process, privately for your security. Once your enrollment is completed, submitted and confirmed, you will then have the ability to access your online banking services by logging in with your User Name and Password