As of May 19, 2017, The Arlington Bank was acquired by First Merchants Bank, National Association. The Arlington Bank offers personal and commercial banking services. The bank was founded in 1999 and is based in Upper Arlington, Ohio.
Bank Official Website:
• www.arlingtonbank.com
Bank Customer Service Telephone:
•  614-486-9000
Bank Routing Number:
•044072243
Bank Swift Number:
• This BANK is not part of the SWIFT network, so there is no number.
Online Banking Mobile Apps:
• No Mobile Apps Available
Branch Locator:
•Branch Finder Link
HOW TO LOGIN
Step 1 – Go to www.arlingtonbank.com – Enter a User Name, then click the "Login" button. This will prompt the system to take you to another page to enter your Password as an added level of security.
Step 2 – Continue to proceed with your login process by entering your password. You will then be directed to your online banking page where you will be able to conduct any of your account reviews and/or transactions
Forgotten Password – If you are unable to recall the password you had created for your account, go to the Login box on the home page and click the "Forgot Password" link inside the box. You will be taken to the first page of the process for resetting your password. You would begin by entering your User ID and click "submit."  You will then be prompted through a private and secure reset process. Simply follow the prompts and answer any security questions. Once you've reset your password you will be able to return to the online banking home page, enter your User ID and password. You will then be able to regain access to your online banking account.
HOW TO REGISTER
Step 1 – If you would like to register for online banking services go to This Page – You will be sent to the Enrollment Services page where you will find that you will need to print, read and sign the eServices agreement and either walk the forms into a local branch, fax them into a local branch for approval or mail it by sending it through the United States Postal Service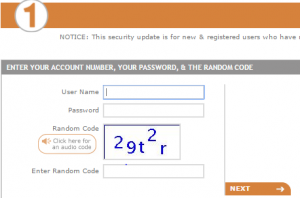 Step 2 – After you've signed and forwarded the signed documents to the appropriate location, you will be notified by email within one business day as to when you will have access to your online account. Once the set up is in place, you will be able to login and do all of your banking business from your location anywhere globally.