MB Bank, National Association offers banking services. It provides checking, savings, and CDs; credit cards; commercial, installment, and small business loans; home equity lines of credit, letters of credit, mortgages, and loan syndication services; and asset-based financing and securitization, equity and mezzanine financing, factoring, private and public placement of senior debt, and merger and acquisition consulting.
Bank Official Website:
• http://www.umb.com
Bank Customer Service Telephone:
• 816-860-7000
Bank Routing Number:
• 081009813
Bank Swift Number:
•This BANK is not part of the SWIFT network, so there is no number.
Online Banking Mobile Apps:
• iPhone
• Android
Branch Locator:
•Branch Finder Link
HOW TO LOGIN
Step 1 – Start by going to the UMB Bank Online Home Page. When you reach the site, look to the left side of your screen and enter the User ID associated with your account into the empty text box. After entering your User ID, select the blue "Next" button.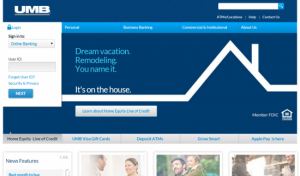 Step 2 – On the next page, answer the security question for your account and select the dark blue "Submit" button. If you have entered everything correctly up to this point, you should now be logged into your Online Banking account.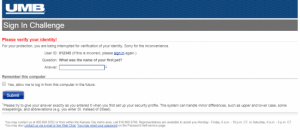 HOW TO REGISTER
Step 1 – Navigate your web browser to the UMB Bank Online Home Page. Upon reaching the site, scroll down (if necessary) and look for the box with the bold, blue text that reads "Learn more about Online and Mobile Banking". Under this text will be two lines of light blue text – select the first one titled "Enroll in Online Banking".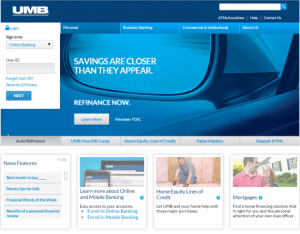 Step 2 – On the next page you will be required to Verify your Account. To do this, select the type of account you would like to create (we're assuming you selected "Checking/Savings"), enter your Account Number, input the last five digits of your Social Security Number, enter your Address, and enter your Zip Code. Click the dark blue "Verify your account" button to be directed to the next page. From this point on, you will need to follow the on-screen instructions displayed by UMB Bank to complete the creation of your Online Banking account.