Webster Bank, N.A. provides financial services to individuals, families, and businesses in Connecticut. It offers personal banking products and services, including checking, savings, and health savings accounts, as well as CDs; reorder checks, online banking, mobile banking, overdraft services, military banking benefits, and ATM banking services; lending solutions, such as home equity loans and lines of credit, personal and student loans, and overdraft protection services, as well as credit cards and mortgage services; and investment products and services.
Bank Official Website:
• public.websteronline.com
Bank Customer Service Telephone:
• 203-578-2230
Bank Routing Number:
•  211170101
Bank Swift Number:
•This BANK is not part of the SWIFT network, so there is no number.
Online Banking Mobile Apps:
• iPhone
• Android
Branch Locator:
•Branch Finder Link
HOW TO LOG IN
Step 1 – Users wishing to access their online account with Webster Bank must go to the banks Homepage and find the ´Sign In To Your Account´ facility at the top left of the page. Next users must enter their ´Username´ in the blank field and then click ´Go´.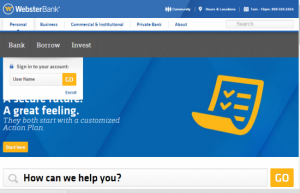 Forgotten Username/Password
If a user forgets their username or password they can contact the bank directly by telephone on 1(800) 995-9995 or visit their Local Branch for further advice.
Branch locations can be searched for by clicking the tab ´Hours & Locations´ at the top right of the page and then entering the city or state where the branch can be found into the blank field and then clicking ´Search´.
HOW TO ENROLL
Step 1 – Existing account holders with Webster Bank can create an online account by clicking on the link ´Enroll´ which is just below the ´Sign In To Your Account´ facility on the banks homepage.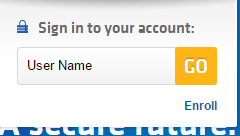 Step 2 – Users are directed to a second page where they are required to select the type off account they wish to enroll in by checking the relevant box and then clicking ´Continue´.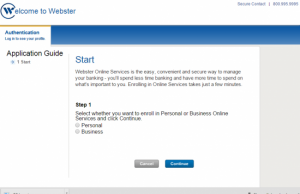 Step 3 – Users are directed to a third page where they must complete the ´Blank Fields´ with the relevant personal details required for enrollment.