Whitaker Bank, Inc. offers personal and commercial banking services. The company was formerly known as Whitaker Bank, National Association and changed it s name to Whitaker Bank, Inc. in May 2004. The company was founded in 1990 and is based in Lexington, Kentucky. Whitaker Bank, Inc. operates as a subsidiary of Whitaker Bank Corporation of Kentucky.
Bank Official Website:
• www.whitakerbank.com
Bank Customer Service Telephone:
• 859-543-4000
Bank Routing Number:
• 042104168
Bank Swift Number:
•This BANK is not part of the SWIFT network, so there is no number.
Online Banking Mobile Apps:
• iPhone
• Android
Branch Locator:
•Branch Finder Link
HOW TO LOGIN
Step 1 – Go to www.whitakerbank.com – In the upper left corner of the home page, go to the "Select bank to login" drop down box. Click the arrow and select "Whitaker Bank." This will take you to the login page for Whitaker Bank specifically. Enter your User ID. Click "Continue"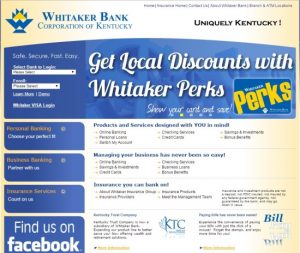 Step 2 – After entering your User ID and continuing the process, you will be taken to a security page where you will be presented a challenge question. Read the question and place your answer in the text box. Click "Submit"

Step 3 – Once you've submitted your answer to your challenge question, you will be guided to a secure page where you will enter your password. After submitting your password, you will then be able to access your online bank account and may proceed with your banking business.
Forgotten Password – If you're unable to remember your password, you will be able to find the "Forgot Your Password?" form on the password screen. Complete and submit the information for password recovery there. Once your password has been recovered you will regain access to your account and may resume your banking business as usual.
HOW TO ENROLL
Step 1 – If you are prepared to enroll in this bank's online banking services, you will first be required to review and agree to the "Personal Online Banking Enrollment Agreement" Once you've reviewed the terms, click "I Agree"

Step 2 – When you click the "I Agree" button, you will be guided to the Online Banking Enrollment form. Enter the required information into the form. At the end of the form, human verification is required. Type the characters that are visible in the picture, into the text box. Click "Submit" – This will complete your enrollment. You will now be able to login and conduct any banking business you need to do.