Woodforest National Bank Inc. provides personal and business banking products and services in the United States. The company's personal banking products and services include checking and savings accounts; personal loan products, including home equity loans, home equity line of credit, home improvement loans, secured and unsecured lines of credit, mortgages, and automobile or recreational vehicle loans; and other services comprising online banking, mobile banking, overdraft solutions, financial services, and card services.
Bank Official Website:
• www.woodforest.com
Bank Customer Service Telephone:
• 832-375-2505
Bank Routing Number:
• 113008465
Bank Swift Number:
•This BANK is not part of the SWIFT network, so there is no number.
Online Banking Mobile Apps:
• iPhone
• Android
Branch Locator:
•Branch Finder Link
HOW TO LOGIN
Step 1 – Visit Woodforest Bank's Website and click the Login button, located on the upper right side of the page.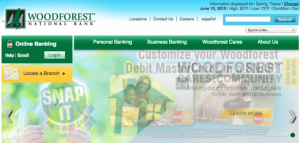 Step 2 – Enter your Username and Password, then click Login.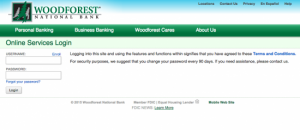 Forgot Username/Password – If you have forgotten your Password, click the Forgot your password? link, located under Online Services Login. You will then be instructed to input your Username and click Continue. Woodforest Bank will then send you a temporary password to your email address. If your Username has been forgotten, you must contact a representative through the bank's customer service telephone line (1-877-968-7962).
HOW TO ENROLL
Step 1 – Visit the Woodforest Bank's Enrollment Page, by clicking the Enroll link, found under the Online Banking section of the homepage.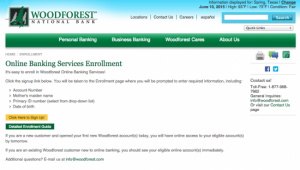 Step 2 – You will arrive at a page that describes what information you will need to create an account. Read the requirements and hit the link that says Click Here to Sign Up!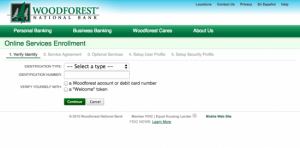 Step 3 – Select an Identification Type and Number, then choose what you want to Verify Yourself With. Once all choices have been made, click Continue.