Bank of Blue Valley provides personal and business banking services. It offers checking, savings, certificates of deposit, and individual retirement accounts; debit and credit cards; personal and commercial loans; and online and mobile banking, financial resource, personal and business banker, mortgage, and wealth management services, as well as practitioner financial solutions. The company was founded in 1989 and is headquartered in Overland Park, Kansas with locations in Leawood, Lenexa, Olathe, and Shawnee, Kansas. Bank of Blue Valley operates as a subsidiary of Blue Valley Ban Corp.
Bank Official Website:
• www.bankbv.com
Bank Customer Service Telephone:
• 1.913.338.1000
Bank Routing Number:
• 101005027
Bank Swift Number:
•This BANK is not part of the SWIFT network, so there is no number.
Online Banking Mobile Apps:
• iPhone
• Android
• iPad
Branch Locator:
•Branch Finder Link
HOW TO LOGIN
Step 1 – Go to www.bankbv.com – At the top right of the home page you will enter your Login ID into the field contained within the "BlueWave Online Banking Box." You will then click the "Login" button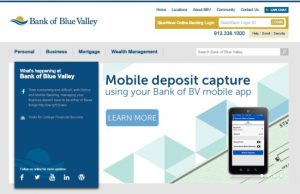 Step 2 – After you've entered your Login ID you will be sent to a separate page to enter your password. This procedure has been implemented to ensure the integrity of security with regard to your personal information
Step 3 – Once your credentials have been entered you will then be directed to your online banking account where you will be able to review your account information and conduct banking transactions
Forgotten Password – If you find that you are unable to recall your password, you must login first with your Login ID. Once you've reached your password page and you are unable to access your account due to a forgotten password, click the "Other Services" link. you will be able to set your password and make any other changes from this location. Once you've reset your password, you will be able to login to your online account services and resume your online banking activities.
HOW TO ENROLL
Step 1 – If you have not yet enrolled in online banking go to This Page  – to begin the enrollment process. This particular form is for personal account holder's only. If you are a business attempting to enroll, contact one of the branches through the "Contact Us" link or call one of the local branches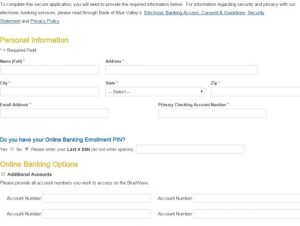 Step 2 – Complete all required fields on the Online Banking Enrollment form provided as follows:
Personal Information
Account holder must enter their full name
Address
City
State (from the drop down box)
Zip Code
Email address
Your Primary Checking Account Number
Do you have your Online Banking Enrollment PIN? (Click the yes or no bubble appropriately)
Online Banking Options
Check the box if you have additional accounts to add to review when you enter your online account.
There are four additional fields in which you may enter additional accounts. Enter any accounts for which you are an authorized signer and would like to make available for viewing within your online banking account
Answer: Are there other services you are interested in?  If so check the boxes next to each service that may interest you
Authorized Consent
You must click the link and review the "Electronic Banking Access Consent Guidelines" This is basically the terms and conditions you must adhere to in order to enjoy the convenience of online banking. This is for your protection.
Once you've reviewed the terms, you must agree to them. Once you click the "Submit" button you will be in agreement to the terms so be certain you do, in fact, review them
Electronically sign your legal name and enter your date of signature  in mm/dd/yyyy format
Click "Submit Form"
You will then be guided privately through any additional secure enrollment procedures. Once enrollment is complete, you will then be able to enter your Login ID and Password and access your online banking services