ANB has 30 banking centers located in Colorado, Wyoming and the Kansas City metro area. Its parent company, Sturm Financial Group, Inc. is headquartered in Denver, Colorado and has financial strength embodied in $2.6 billion in assets and ranks in the top 6% of banks nationwide by size. The Bank is a true community bank with an unwavering commitment to excellence, helping each of its communities prosper through investment, sponsorship, philanthropy, and employee volunteerism. It is a passion ANB has for banking that makes the difference.
Bank Official Website:
•www.anbbank.com
Bank Customer Service Telephone:
• 1 (866) 433-0282
Bank Routing Number:
• 107001232
Bank Swift Number:
• AMNTUS51
Online Banking Mobile Apps:
• iPhone
• Android
• IPAD
Branch Locator:
•Branch Finder Link
HOW TO LOG IN
Step 1 – If users are logging in they can go to the bank`s Homepage where they should look for the login facility towards the top left of the page. Here they need to enter their `Username` and then click `Login`.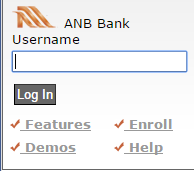 Forgotten User ID/Password
Step 1 – To retrieve any forgotten or lost login details the user should contact the bank. They can call the bank directly on 1 (866) 433-0282 or they can find one of the bank`s `Locations`.
Step 2 – If the user prefers they can contact the bank online with their `Messaging Service` entering their `Name`, `Email Address` and `Telephone Number`. They must enter their message, confirm the verification process and finally click `Submit`.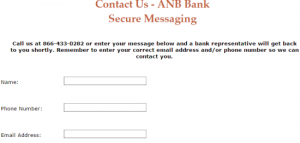 HOW TO ENROLL
Step 1 – If customers would like to enroll in online banking they must go to the bank`s homepage where they should look for the login facility at the top left of the page. Below this is a link `Enroll` which the user must click on.
Step 2 – Next the user must select the type of banking they wish to enroll in, depending on which type of account they hold, `Commercial` or `Personal`.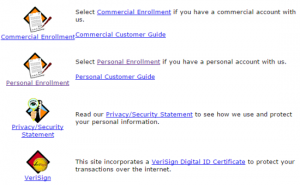 Step 3 – Now the user must complete the relevant `Blank Fields` for personal banking. Then they must click `Submit Enrollment`.
Required
Name
Address
ZIP code
Home/Work/Mobile telephone number
Social security number
Email address
Account number
Account type