Bank of the West, Inc. provides personal and commercial banking products and services for individuals, families, and business owners. The company offers checking accounts, savings accounts, money market accounts, CDARS investment programs, certificate of deposits, and individual retirement accounts. It also provides consumer, home improvement, commercial, construction, mortgage, and SBA preferred loans, as well as lines of credit; MasterCard debit cards and safe deposit boxes; and merchant, online banking and electronic bill payment, and remote deposit capture services.
Bank Official Website:
• online.bankofthewest.com
Bank Customer Service Telephone:
•  1-800-488-2265
Bank Routing Number:
• 121100782
Bank Swift Number:
• BWSTUS66
Online Banking Mobile Apps:
• iPad
• iPhone
• Android
Branch Locator:
•Branch Finder Link
HOW TO LOGIN
Step 1 – Visit Bank of the West Webpage and enter your Username and Password on the left side of the homepage, then click Sign In.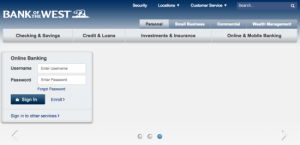 Forgot Username/Password – If your Username has been forgotten, click the Forgot Username link and you will be directed to a page that asks you to provide your First and Last Name, Middle Initial, Checking account number, Debit card number, and SSN. Input all the information and click Continue. If your Password has been forgotten, click the Forgot Password link and you will be asked to provide your Username and Email. Once you input your information, click Continue and you will be sent your Password to your Email Address.
HOW TO ENROLL
Step 1 – Visit Bank of the West's Enrollment Page and choose what type of account you have, whether you have a debit card, and if you have SSN, then click Continue.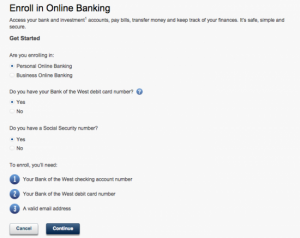 Step 2 – Enter your Account Information:
First and Last Name
Middle Initial
Checking account number
Debit card number
SSN
Email Address
then read and agree to the terms and conditions. Once all information has been entered, click Continue.