Auburn Banking Company provides personal and business banking products and services in Logan County. It offers checking, money market, and savings accounts; and certificates of deposits and individual retirement accounts. The company also provides personal, vehicle, RV/watercraft, and residential real estate loans; agricultural loans for farm purchases or re-financings, crop production lines, and equipment and livestock purchase, as well as other needs of agricultural sectors; and commercial loans for commercial real estate purchases and expansions, seasonal operating needs, equipment purchases, inventory increases, and other financing needs of business community.
Bank Official Website:
• www.auburnbankingcompany.com
Bank Customer Service Telephone:
• 1-888-542-4186
Bank Routing Number:
•  083903661
Bank Swift Number:
• This BANK is not part of the SWIFT network, so there is no number.
Online Banking Mobile Apps:
• Android
Branch Locator:
•Branch Finder Link
Auburn Banking Company Online Banking Login
HOW TO LOGIN
Step 1 – Visit Auburn Banking Company's website and enter your "User name" in the available space located under the "Online Banking Login" section. After the information has been entered, click the Login button below.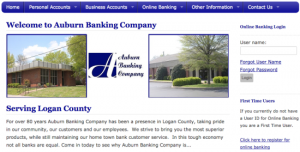 Step 2 – The bank then asks you to provide an answer to a security question that you picked when you created your account. Input the answer and click Submit to proceed.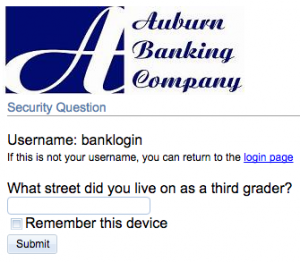 Forgot Username/Password – If you can't remember your account "User Name", then you must be able to provide your Email address in the space shown. Make sure you use the same Email that you provided when creating the account. Input the information and Click Submit. The bank will then send the forgotten information to your Email address.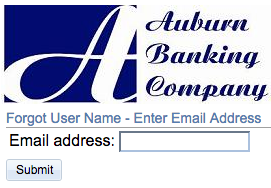 If your "Password" can't be remembered, then you have to enter your "User name" in the space shown below. This will bring you to the next step of resetting your Password so you can once again access your account.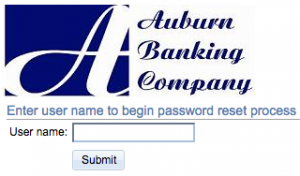 HOW TO ENROLL
Step 1 – Visit Auburn Banking Company's enrollment page by clicking the "Click here to register for online banking" link of the homepage. You will arrive at a page that asks you to supply certain information about your account such as:
First and Last Name
Date of Birth
SSN
Drivers License Number
Address
City
State/Zip
Phone Number
Email
Account Numbers
Place of Employment
Step 2 – After you have entered all information, you must read the terms and conditions by clicking the link below. If you agree, check the box and click Submit to continue the process.