Audubon State Bank provides banking and financial services in Audubon and surrounding areas. Its deposits products include checking, savings, Christmas club, health savings, and retirement accounts, as well as certificates of deposit. The company also provides commercial loans, such as inventory, operating, capital improvements, lines of credit, and real estate loans; consumer loans, including car, truck, boat, recreational vehicle, vacation, furniture, household goods, and other loans; and agricultural, home, and student loans.
Bank Official Website:
• www.audubonstatebank.com
Bank Customer Service Telephone:
•  1-888-287-2957
Bank Routing Number:
• 073904159
Bank Swift Number:
• This BANK is not part of the SWIFT network, so there is no number.
Online Banking Mobile Apps:
• No Mobile Apps Available
Branch Locator:
•Branch Finder Link
HOW TO LOGIN
Step 1 – To login to your account you must visit the Audubon State Bank website and select either Access eBusiness Internet Banking or Access Personal Internet Banking at the top of the webpage.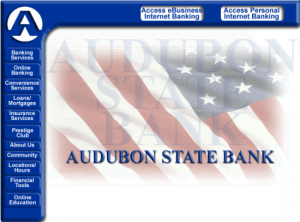 Step 2 – Read the following disclaimer and click Click here to continue to advance in the login process.

Step 3 – Supply your "Access ID" in the available space and click the Submit button right below to proceed to the Password page.

Step 4 – User must enter account "Password" to gain entry to account. Input the information and click Submit to begin "Online Banking".

Forgot Access ID/Password – User must contact the bank's helpline to recover their Access ID. An employee will help you retrieve the information that cannot be remembered. Just answer the security questions the bank representative wants answered to prove it is you. If password can't be recalled, click the Forgotten Password? link and fill out the needed information which includes the following: Access ID, Last 4 Digits of Tax ID Number, and Email Address. Once all information has been provided, click the Submit button and you  will be on your way to recovering your password.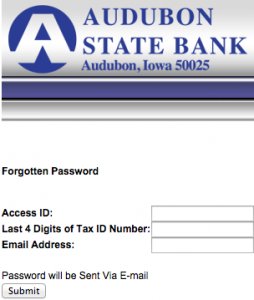 HOW TO ENROLL
Step 1 – User must click the "Online Banking" tab on the left side of the homepage. You will then be directed to the Audubon State Bank enrollment page where you have links to choose from. Choose the Enroll Now to proceed.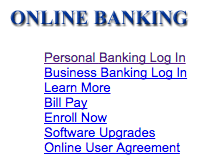 Step 2 – Read the following "Online User Agreement" and select I Agree if you concur with the terms and conditions.


Step 3 – Fill out the "First Time User Authentication" form which asks you to input general information about your account. Once you complete the form, click Submit to finish the enrollment process.