Bank of Albuquerque, National Association provides personal banking, business banking, and wealth management products and services. Its personal banking services include checking, savings, money market, certificates of deposit, and individual retirement accounts; auto loans, home equity lending, personal lines of credit, mortgages, and credit cards; and online banking and bill pay, mobile banking and deposit, Visa debit cards, Apple Pay, order checks, investments, overdraft protection, and online investing services.
Bank Official Website:
• www.bankofalbuquerque.com
Bank Customer Service Telephone:
• 505.879.5212
Bank Routing Number:
• 107006606
Bank Swift Number:
• This BANK is not part of the SWIFT network, so there is no number.
Online Banking Mobile Apps:
• iPad
• iPhone
• Android
Branch Locator:
•Branch Finder Link
HOW TO LOGIN
Step 1 – Go to www.bankofalbuquerque.com – Enter your user name and password into the required fields located at the top left side of the home page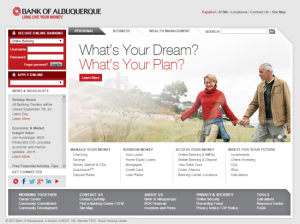 Step 2 – Click the "Login" button and you will be directed to your online account where you will be able to begin taking advantage of your online banking features
Forgotten Password – In the "Secure Online Banking" box on the home page, you will click the "Forgot Password" link. This will take you to a password reset page where with a minimal amount of information you will be able to reset your password online quickly and easily. First enter your username in the appropriate field and do the same with the secret word you selected when you enrolled. Click "next" – Reset your password. Once you confirm your new password, you will be able to login and resume working with your online account.
HOW TO ENROLL
Step 1 – Go to This Page to begin your enrollment process. Begin by reviewing and accepting  the terms and conditions.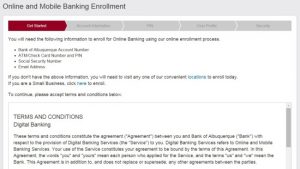 Step 2 – To continue enrollment you will need to have the following information available:
Your Bank of Albuquerque Account Number
Your ATM/Check Card Number and PIN
Your Social Security Number
Your Email Address
Step 3 – Once you have agreed to the terms, you will then be guided through the remaining process of enrollment privately. You will provide the following information:
Your required account information
You will create and confirm a PIN
You will create your user profile
You will create an added layer of security in the event of a forgotten password and to avoid compromising your account information
Step 4 – After you have completed all of the required steps for enrollment, you may login with your created login credentials (username and password) and do your banking business online