Bank of Bridger, N.A operates a community bank in Montana and Wyoming. The company offers checking, savings, and money market accounts; agriculture, auto/boat/RV, deposit collateral, home, home equity, home, and student loans, as well as small business lending solutions; and certificates of deposits and individual retirement accounts. It also offers business VISA debit card, online business bill pay, and small business administration services; and agricultural programs for farmers, ranchers, and agricultural partners.
Bank Official Website:
• bankofbridger.com
Bank Customer Service Telephone:
• 1-406-662-3388
Bank Routing Number:
• 092903542
Bank Swift Number:
•This BANK is not part of the SWIFT network, so there is no number.
Online Banking Mobile Apps:
• iPad
• iPhone
• Android
Branch Locator:
•Branch Finder Link
HOW TO LOGIN
Step 1 – Go to www.bankofbridger.com – In the "Online Banking Login" box, enter your Access ID then click "Login"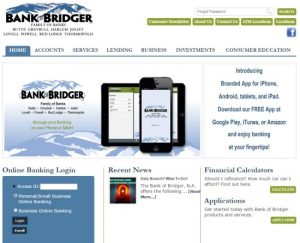 Step 2 – Once you've entered your Access ID and clicked the login button, you will be taken to a second page of the login process where you will be able to enter your password. Enter your password. You will then be guided to your online banking account. You will then be able to take advantage of all of the online services available to you
Forgotten Password – Currently there is no self- recovery for your password. If you are unable to recall your password and need assistance, you will be required to call the bank at 1-800-488-8489, between the hours of 8:00 am and 5:00 pm to obtain your password information.
HOW TO ENROLL
Step 1 – If you are prepared to enroll in Online Banking services, begin by going to This Page and enter the following required information into the fields provided:
Your account type (select from the drop down box on the right)
Account holder's Account number
First name
Last name
Address
City
State (select from the drop down box on the right)
Zip Code
Account holder's date of birth (in mm/dd/yyyy format)
Social Security Number (without dashes)
Your Electronic Banking Password (last 4 digits of SSN or TIN)
Your email address
Next, you must click the "Terms and Conditions" link and review the document. Once you've reviewed the terms click the "Submit" button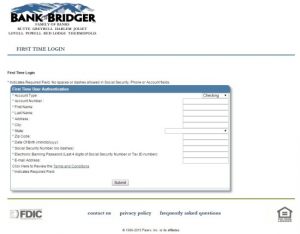 Step 2 – After you have submitted your initial personal information, you will be guided privately through the system, to complete your enrollment process. Once the Online Banking enrollment process is complete, you will be able to access your Online Banking account services. You will then be able to manage your online account and conduct any transactions you may choose to complete