Bank of Crockett provides personal and business banking services in Tennessee. It offers checking accounts, savings accounts, certificates of deposit, and individual retirement accounts; mortgage, auto, commercial, agricultural, and miscellaneous loans; and online banking, cash management, check order, ATM/debit, wire transfer, and general banking services. The company was founded in 1887 and is based in Bells, Tennessee with branch locations in Gadsden, Crockett Mills, Alamo, and Bells, Tennessee. Bank of Crockett operates as a subsidiary of Security Bancorp of Tennessee.
Bank Official Website:
• www.bankofcrockett.com
Bank Customer Service Telephone:
•  (731) 663-2031
Bank Routing Number:
• 084303231
Bank Swift Number:
• This Bank is not part of the SWIFT network, so there is no number.
Online Banking Mobile Apps:
• No Mobile Apps Available.
Branch Locator:
•Branch Finder Link
HOW TO LOGIN
Step 1 – Enter your "Access ID" under the "Online Banking" portion of the homepage, then select Login.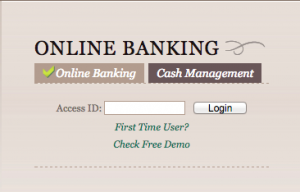 Step 2 – Input your account "Password" into the space shown and click Submit below to be granted access to your online account.
Forgot Access ID/Password – A forgotten Access ID must be reported to a bank associate to be recovered. To do so, you must contact the bank's customer service department and you will have to go through a security process to retrieve the info that cannot be remembered. As far as a forgotten Password goes, you must click the following link: Forgot Password?. This will direct you to a page that requires certain information to recover your password. Provide your Access ID, Last 4 Digits of Tax ID Number, and Email Address, then click Submit to receive your Password to your Email account associated with the bank.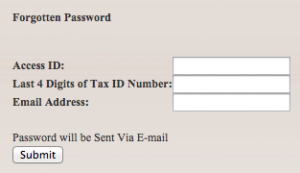 HOW TO ENROLL
Step 1 – Read the "Account Agreement". If you agree to the terms, then you must click I Agree.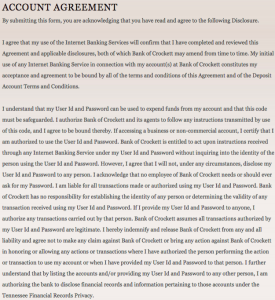 Step 2 – Fill out the "First Time User Authentication" form with the following required information:
SSN
Account Number & Type
and Password (Last 4 Digits of SSN)
then click the Submit button to finish the enrollment process.