Bank of Montana provides personal and business banking products and services to small-to mid-sized businesses, entrepreneurs, visionaries, professionals, commercial and investment property owners, pilots, community leaders, and retired individuals. It offers personal and business checking, savings, and money market accounts; personal and business certificates of deposit; personal, conventional home, construction, and home equity loans; and business loans including aircraft, commercial, construction, and multifamily housing loans.
Bank Official Website:
• www.bankofmontana.com
Bank Customer Service Telephone:
• 406-829-2662
Bank Routing Number:
• 292070806
Bank Swift Number:
• This Bank is not part of the SWIFT network, so there is no number.
Online Banking Mobile Apps:
• No Mobile Apps Available.
Branch Locator:
•Branch Finder Link
HOW TO LOGIN
Step 1 – Log in to your account by visiting the Bank of Montana website and clicking the Online Banking tab on the upper section of the homepage.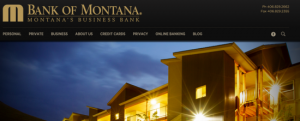 Step 2 – Input your "Login ID" in the appropriate space and click Validate to sign in.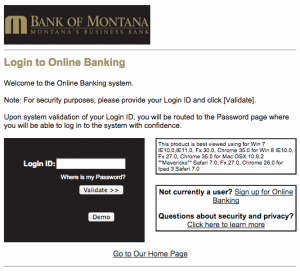 Step 3 – Usually when you sign in for the first time on a new device, they request that you participate in a "One-Time Security Code". Just click Continue with Security Code to proceed to the next step.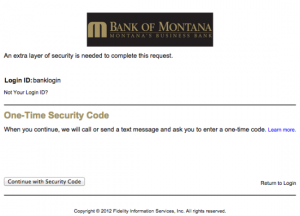 Step 4 – Select which phone number you would like them to send a code to so you can confirm your identity, then click Continue.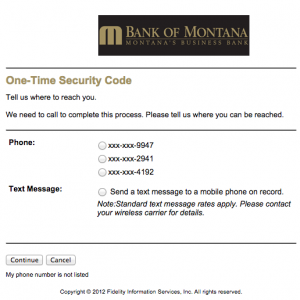 Login ID/Password – If you cannot recall your login information, you must contact the bank and notify a bank staff member of your issue. The staff member will then request account information to confirm your identity. Once you have provided the correct info, they will help you recover the forgotten information.
HOW TO ENROLL
Step 1 – Click the Sign up for Online Banking link on the "Login to Online Banking" page. You will arrive at a page that provides a form. Provide the following required information:
First and Last Name
Address
City, State, Zip Code
Country
SSN/Tax ID Number
Phone Number
Email Address
Then click Proceed to continue the process.