Bank of Grandin provides personal and commercial banking products and services. The company offers deposit accounts, such as checking, savings, and individual retirement accounts, as well as certificates of deposit; and additional services, such as direct deposits, debit/ATM cards, safe deposit boxes, border electric payments, and cashier's checks, as well as notary, wire transfer, account research, fax, stop payment, and night depository services. It also provides loans, which include personal loans for purchase or refinance of consumer goods, automobiles, boats.
Bank Official Website:
• www.bankofgrandin.net
Bank Customer Service Telephone:
• 573-593-4211
Bank Routing Number:
• 081513969
Bank Swift Number:
• This Bank is not part of the SWIFT network, so there is no number.
Online Banking Mobile Apps:
• No Mobile Apps Available.
Branch Locator:
•Branch Finder Link
HOW TO LOGIN
Step 1 – Log on to the bank's website and click the Log In button towards the bottom left corner of the screen.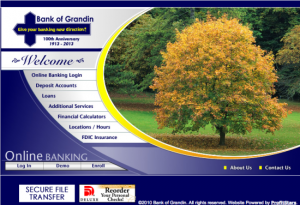 Step 2 – Provide your bank "User ID" in the space shown and click the Continue button to advance to the next step.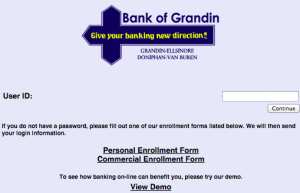 Step 3 – Supply the bank with the answer to your "Challenge Question" that you created when signing up for Online Banking, then click Submit.

Forgot User ID/Password – Can't recall your User ID or Password? Either call the bank or go in person and describe your predicament. A bank employee will then ask you for certain personal information to confirm that you truly are the person registered to the account. Once you have been confirmed, the associate will guide you through the process of recovery.
HOW TO ENROLL
Step 1 – Click the "Enroll" button on the initial webpage to progress to the "Personal Enrollment Form Agreement" page. Select the link provided to view the agreement. If you agree to the terms and conditions, then click I Agree.

Step 2 – Fill out the "Personal Enrollment Form" that requires personal information to register. Enter the "Security Value" in the available space, then Submit for the bank to process your request.