Bank of Grove (Grove, OK) provides personal and business banking services. It offers checking, savings, money market, certificates of deposit, and individual retirement accounts; personal loans, including home and consumer loans, construction loans for new homes, one time closing home construction-mortgage loans, home equity loans, home improvement loans, personal lines of credit, real estate land and lot loans, boat loans, recreational vehicle loans, and new and used car loans; and business loans, such as lines of credit, revolving term loans, working capital loans, and commercial real estate loans.
Bank Official Website:
• www.bankofgrove.com
Bank Customer Service Telephone:
• 1-918-787-5900
Bank Routing Number:
• 103189682
Bank Swift Number:
• This Bank is not part of the SWIFT network, so there is no number.
Online Banking Mobile Apps:
• iPhone
• iPad
Branch Locator:
•Branch Finder Link
HOW TO LOGIN.
Step 1 – Before you will be able to login, you will have to enroll in online services. In order to enroll, you must call the customer service number and will likely be asked to come to the bank to enroll, for your security.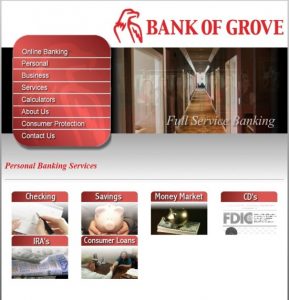 Step 2 – Once you've visited the bank and enrolled in online banking services, you will be able to go to the login page and login to conduct your online banking business.
Forgotten Password – If you've forgotten your password at any time, you must contact customer service at 1-918-787-5900 for a password reset. Once you've reset your password, you will regain access to your online account.
HOW TO ENROLL
Step 1 – If you're prepared to enroll in online banking, begin by going to This Page – In order to acquire an online banking account, you must begin by reviewing the "Disclosure and Ageement" documents. Once you've read the agreement and terms, you must agree to it, by clicking "I Accept" at the end of the page.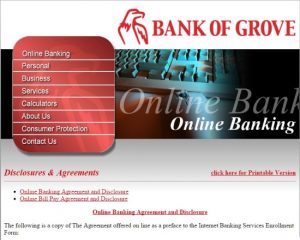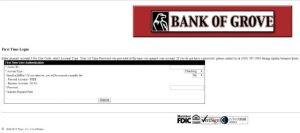 Step 2 – After you have accepted the Terms, when you click the "I Accept" button, you will then be guided to the "First Time Login" page to provide your newly acquired Access ID and Password. From this point you will provide the following information:
Your Access ID
Your Account Type (Select from the drop down box)
Enroll in Bill Pay? (select your choice in the drop down box)
Personal Accounts are free of charge, however, business accounts will be assessed a fee of $9.95
Enter your Password
Click "Submit"
Step 3 – From here you will be guided privately through the secure set up of your online banking. Simply follow the prompts. Once you've completed the enrollment process, you will be able to access your online banking account 24 hours per day to do your banking business, privately and at your convenience.