Virginia Bank and Trust Company provides banking services. Its banking services include checking accounts, interest checking accounts, certificates of deposit, money market accounts, individual retirement accounts, eStatements, VISA platinum credit card, VISA check cards, ATMs, and mobile banking services. The company's business banking services comprise non-profit checking accounts, business checking accounts, business analysis checking accounts, business interest checking accounts, business money market checking accounts, cash manager checking (small business) accounts, cash manager checking (medium-large business) accounts, business statement savings accounts, online banking, bill pay, eS…
Bank Official Website:
• www.vabanktr.com
Bank Customer Service Telephone:
• 434-793-6411
Bank Routing Number:
• 051407296
Bank Swift Number:
•This BANK is not part of the SWIFT network, so there is no number.
Online Banking Mobile Apps:
• iPhone
• Android
Branch Locator:
•Branch Finder Link
Virginia Bank and Trust Online Banking Login
HOW TO LOGIN
Step 1 – Go to the "Click here to log in to:" section of the bank's homepage and select the Personal Online Banking option below.

Step 2 – You will be directed to the "Login to online Banking" page, where you must supply your "Login ID" in the space provided. Input the info and click Validate to go to the next step.
Step 3 – Click Continue with Security Code to advance.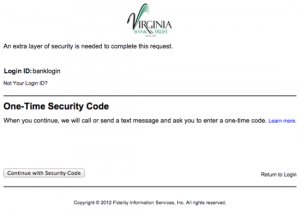 Step 4 – Select which phone number you can be reached by and whether or not you would like a text message, then click Continue to finish the "One-Time Security Code" process to access your account.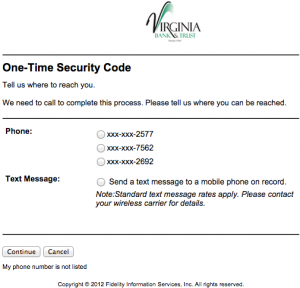 Forgot Login ID/Password – In case you forgot your "Login ID" or "Password", you must contact the bank and tell an employee that you cannot recall your information. The employee will then begin the process of recovery which requires you to provide particular information about your account that proves you are the account holder. Once you have proven your identity, the associate will supply you with your Login ID/Password.
HOW TO ENROLL
Step 1 – Select the Sign up for Online Banking link under the Login page. You will be presented an "Enrollment Form" that needs to be filled out with personal information about your account. Provide the following required fields:
First & Last Name
Address
City
State
Zip
Country
SSN
Phone Number (Home, Work, Cell, Alternate)
Email Adress
and what you would like to sign up for (Online Banking or Online Banking with Bill Pay)
Once all the fields have been completed, user must click Proceed to finish the process of enrollment.