Bank of Hydro provides personal and business banking products and services. It offers deposit products and services; certificates of deposit; personal, home, real estate construction, real estate long term financing, agriculture, and commercial business loans; and online banking services. The company was founded in 1903 and is based in Hydro, Oklahoma with branch locations in Weatherford and Eakly, Oklahoma.
Bank Official Website:
• www.bankofhydro.com
Bank Customer Service Telephone:
• 1-405-797-3686
Bank Routing Number:
• 103105394
Bank Swift Number:
• This Bank is not part of the SWIFT network, so there is no number.
Online Banking Mobile Apps:
• No Mobile Apps Available.
Branch Locator:
•Branch Finder Link
HOW TO LOGIN
Step 1 – Go to www.bankofhydro.com – Go to the "Customer Login" box and click the "Sign In" button. You will be sent to the "Sign in to internet banking" page. Enter your User Name. Click the "Login" button.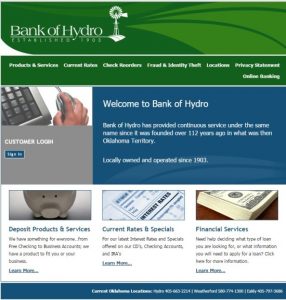 Step 2 – Once you've entered your login credentials and submitted, you will be prompted through the remainder of the login process. Your password will be entered on the next page to ensure your informational security.
Step 3 – After you complete the sign in process, you will be taken to your Online Banking page where you will be able to conduct your banking business at your discretion.
HOW TO ENROLL
Step 1 – In order to enroll in Online Banking, you must acquire a registration form from your local banking branch. Complete the form and return it to the bank.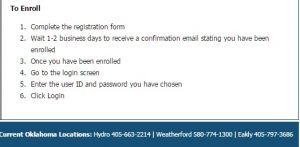 Step 2 – Once you've returned your form, allow 1-2 days to receive confirmation through the email address you have on file with the bank, that your Online Banking services are complete and you're enrolled.
Step 3 – After you've been contacted that your enrollment is complete, you may then go to the home page, click the "Sign In" button which will take you rot the pages to enter your User Name and Password, click "Login" and you are now able to participate in your online banking services.