Bank of Labor operates as a community bank, which provides banking services. It offers personal banking products and services, including checking, savings, copper club savings, holiday savings, money market, and individual retirement accounts, as well as certificates of deposit; and loans, such as home mortgages, home improvement loans, home equity loans, and auto and vehicle loans. The company also provides business banking products and services, which include checking, savings, and money market accounts, as well as certificates of deposit; and loans, such as small business administration loans, real estate loans, equipment loans.
Bank Official Website:
• www.bankoflabor.com
Bank Customer Service Telephone:
• 855-245-2267
Bank Routing Number:
• 101001047
Bank Swift Number:
• LAOOUS41
Online Banking Mobile Apps:
• iPhone
• Android
• iPad
Branch Locator:
•Branch Finder Link
HOW TO LOGIN
Step 1 – Enter the bank's website and click Login under the "Online Banking" portion of the homepage.

Step 2 – Sign in to your Bank of Labor Online Banking account by inputting your User ID and click Continue.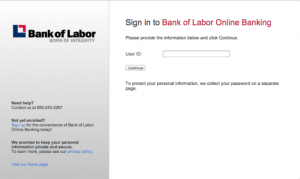 Step 3 – Provide your Password and click Sign In to achieve access to your account.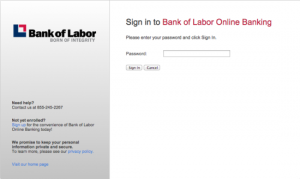 Forgot User ID/Password – If you need help with recovering either your User ID or Password, you must contact the bank at 855-245-2267. A bank worker will then ask you some security questions to make sure you own the account. Once you are confirmed, they will guide you through the process of recovering the information that cannot be recalled.
HOW TO ENROLL
Step 1 – Click the "Enroll" link on the homepage and select which way you would like to identify your account (ATM or Debit Card; Checking, Savings or Money Market Account; Loan Account). If applies to you, select one of the following account types: Line of Credit Account or Certificate of Deposit (CD) Account. Read the agreement by clicking the "Personal Online Banking Agreement" link and check the box if you agree, then click Continue to advance.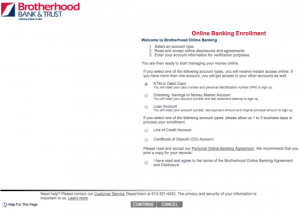 Step 2 – Input your account information in the "Online Banking Enrollment" form and click Continue to complete the enrollment process.