Bank of Marin provides business and personal banking, and wealth management services. It offers personal online banking, personal mobile banking, checking accounts, savings accounts, personal lending, credit cards, international banking, and personal fraud protection; business online banking, business mobile banking, checking accounts, savings accounts, lending, business account management, business credit cards, international banking, merchant services, non-profits, retirement benefit plans.
Bank Official Website:
• www.bankofmarin.com
Bank Customer Service Telephone:
• 1-888-722-1299
Bank Routing Number:
• 121141877
Bank Swift Number:
• MRRNUS66
Online Banking Mobile Apps:
• iPhone
• Android
• iPad
Branch Locator:
•Branch Finder Link
HOW TO LOGIN
Step 1 – Go to www.bankofmarin.com – Once you reach the home page, enter a User ID in the "Secure Login" box at the top left area of the page. Business access would require a Company ID as well as a User ID. The user would then be taken to the password page where the account password may be entered.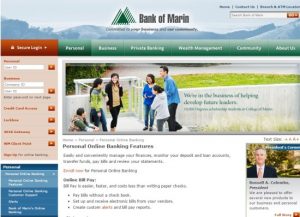 Step 2 – After the User ID and password are entered the client shall be directed to their private online account page, where they may review their account and conduct online banking business.
Forgotten Password – If a client is unable to recall the password they have assigned to their account, they must call customer support and receive assistance in resetting their password 24 hours a day. toll free,  at  1-888-722-1299. There is no self service password reset available on this bank's web site for client security and protection.
HOW TO ENROLL
Step 1 – Should a client choose to enroll in online banking, begin by going to This Page – You would select an account by clicking the bubble next to the type of account you have with the bank. If you have other accounts, they will also be presented for registration.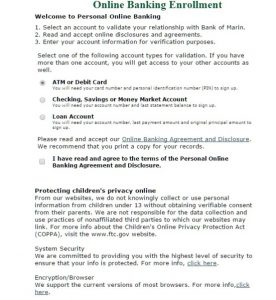 Step 2 – Click the "Online Banking Agreement and Disclosure" and review the information within the agreement. Once you understand and agree, click the box next to the agreement statement. Review the information with regard to the Protection of children's privacy online and then click "continue"
Step 3 – As you are directed to the next page of your enrollment process, you must provide the following information:
Your first name
Your last name
Your SSN or TIN (no spaces or dashes)
Confirm your Social Security Number or TIN
Your email address
Confirmed email address
Authorized caller (first and last name of anyone you authorize to call the bank on your behalf)
Last 4 digits of your card number
Your PIN
Confirm your PIN
Click Continue
After all of the required information has been provided click continue and you will be privately guided through the remainder of the enrollment process
Step 4 – As soon as you have completed your enrollment process and all information has been verified you will then be able to login to your account with a User ID and Password, to review account information and conduct your banking business online by computer or any supported mobile device