Bison State Bank offers personal and commercial banking services. The bank was founded in 1901 and is based in Bison, Kansas.
Bank Official Website:
• www.bisonstatebank.com
Bank Customer Service Telephone:
• 1-785-356-2195
Bank Routing Number:
• 101107475
Bank Swift Number:
• This Bank is not part of the SWIFT network, so there is no number.
Online Banking Mobile Apps:
• iPhone
• iPad
Branch Locator:
•Branch Finder Link
HOW TO LOGIN
Step 1 – Go to secure.bisonstatebank.com – Inside of the long box of links, on the left side of the home page, click the "Online Banking" link, then click the "Login" link once the initial link opens with more selections.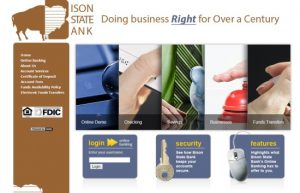 Step 2 – Once you've clicked "login," enter your User ID and click "Submit"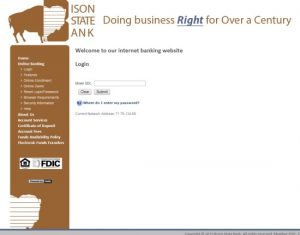 Step 3 – After submission of  your User ID, you will be taken to a security page that will ask you to answer a challenge question. Enter your answer in the text box. Click "Submit"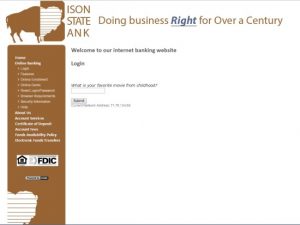 Step 4 – Once you've submitted you challenge question answer, you will be taken to a separate security page where you will enter and submit your password. When you have successfully entered all of your login credential information, you will be directed to your Online Banking page where you will be able to proceed with conducting your banking business.
Forgotten Password – If you're unable to remember your password go to the "Password Reset" page. Enter the required information as requested. Click "Send Request"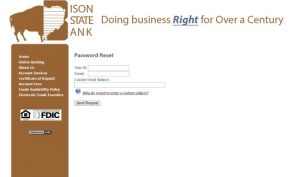 After you've requested your reset, you will receive an email sent to the email address the bank has on file, containing a new password that you will be able to change once you've logged in. You will regain access to your account and may  then resume your banking business activities.
HOW TO ENROLL
Step 1 – When you're ready to enroll in this bank's online banking services, begin by going to the "Online Enrollment" page. On this page you will need to provide all of the information as required, entering it into the boxes provided.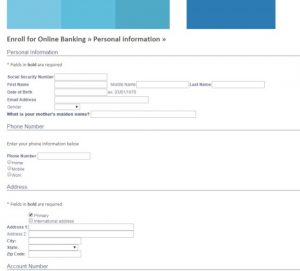 Step 2 – Once you've completed this page, you will be prompted through the remainder of the enrollment process. Upon completion of the enrollment process, you will then be able to login to your Online Banking account any time 24 hours daily, any day of the year.