MRV Banks provides personal and business banking products and services. It offers checking accounts, savings and money market accounts, and certificates of deposit; business checking and money market accounts; mortgages and business/commercial lending services; and online banking services.
Bank Official Website:
• www.mrvbanks.com
Bank Customer Service Telephone:
• 1 (573) 883-8222
Bank Routing Number:
• 081919356
Bank Swift Number:
• This BANK is not part of the SWIFT network, so there is no number
Online Banking Mobile Apps:
• iPhone
• Android
Branch Locator:
•Branch Finder Link
HOW TO LOGIN
Step 1 – For users wishing to log in the first step is to go to the bank´s Homepageand look for ´Internet Banking´ at the top right of the page. Here the user must enter their ´Log In Details´ in the blank field and then click ´Log In´.

Forgotten User ID/Password
If a user can´t find their log in details they will need to contact the bank. There is the option of calling the bank by telephone on 1 (573) 883-8222 or if they wish the customer may visit the  ´Local Branch´ where they can ask a member of staff for advice.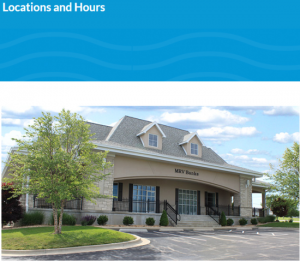 HOW TO ENROLL
Step 1 – For customers who would like to start banking online there is an enrollment process which begins by going to the bank´s homepage and looking for ´Internet Banking´ at the top right side of the page. Below this is a link ´Enroll´ which they must click on.

Step 2 – Next the user is required to complete the ´Blank Fields´and then click on ´Continue Enrollment´.
Required
Tax ID/Social security number
Name
Address
ZIP code
Day time telephone number
Evening telephone number
Email address
Date of birth
Account type
Account number