Bank of Monticello provides personal and commercial banking products and services in Georgia. It offers checking, savings, money market, and individual retirement accounts; certificates of deposit; and installment, commercial, mortgage, and lines of credit loans. The company also provides automated teller machine, cashier's check, direct deposit, notary, and online banking services; and safe deposit boxes and wire transfers. Bank of Monticello was formerly known as First National Bank of Monticello and changed its name to Bank of Monticello in February 1964.
Bank Official Website:
• www.bankofmonticello.com
Bank Customer Service Telephone:
• 1-(800) 385-3897
Bank Routing Number:
• 081511110
Bank Swift Number:
• This Bank is not part of the SWIFT network, so there is no number.
Online Banking Mobile Apps:
• iPhone
• Android
• iPad
Branch Locator:
•Branch Finder Link
HOW TO LOGIN
Step 1 – Go to www.bankofmonticello.com – From the home page, in the black bar across the top of the page on the left side, click "Online Banking." You will be guided to the login page where at the top right, you will enter your Access ID and Passcode, respectively. Click "Login"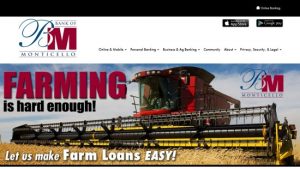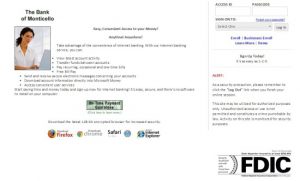 Step 2 – Once you've entered your login credentials and logged in, you will then be directed to your Online Banking page where you will be able to tend to your personal or business banking business
Forgotten Password – If you're unable to remember your password, from the login page, click "Forgot your passcode?" link. This will take you to the secure "Online Banking Password Reset" page. Enter the following:
Your access ID
Your SSN or TIN
Your account number
From this point the system will guide you privately through the remainder of your passcode reset. Once reset you will regain access to your online banking services.
HOW TO ENROLL
Step 1 – When you're prepared to enroll in online banking services, start by going to This Page – Since this is an important aspect of your enrollment, you will not be able to proceed without reading the terms and conditions of the services and agreeing to them. Completely review the terms information. When you're done, click the acknowledgement box and then click "I Agree" at the bottom of the page. You will then proceed to the next page of your enrollment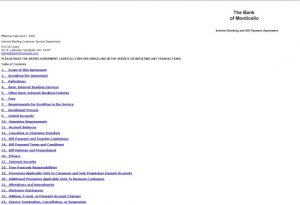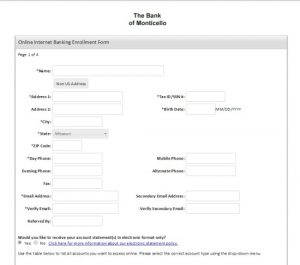 Step 2 – After agreeing to the terms you will be guided through the second page of the enrollment complete all of the required fields, from there you will be privately guided to set up security for your account. Once completed, you will be able to login to your account and begin your banking reviews and transactions