Bank of Oak Ridge, a community bank, provides personal and business banking services to lower and middle-income customers, and small to medium-sized businesses in North Carolina. Its banking products and services include checking accounts, savings accounts, health savings accounts, credit cards, UChoose rewards, Visa gift cards, overdrafts, home loans, jumbo loans, refinancing, lot programs, home equity loans, business term loans, business mortgages, business lines of credit, cash management, remote deposit capture, online banking and bill pay, mobile banking, convenience banking, insurance services.
Bank Official Website:
• www.bankofoakridge.com
Bank Customer Service Telephone:
• 1-(336) 315-2400
Bank Routing Number:
• 053112327
Bank Swift Number:
• This Bank is not part of the SWIFT network, so there is no number.
Online Banking Mobile Apps:
• iPhone
• Android
• iPad
Branch Locator:
•Branch Finder Link
HOW TO LOGIN
Step 1 – Go to www.bankofoakridge.com – As you reach the home page, in the "Online Banking" box at the top left of the page, enter your User ID. Click "Login"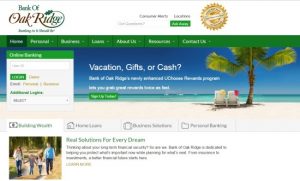 Step 2 – After you enter your enter your User ID, you will then be guided to a secure page where you will be able to enter your password. Once your password is entered, you will be guided to your Online Banking account where you will be able to conduct reviews and transactions at your discretion 24/7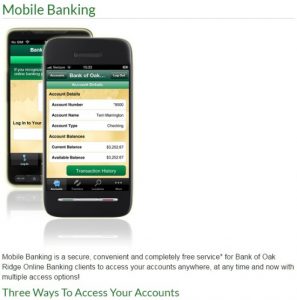 Forgotten Password – If you find that you're unable to recall your password you must login through "services" answer a security question if needed and reset your password. See this page for password information for both online and mobile banking (forgot password) – If you continue to experience difficulty call client services at 336.644.9944 or go to any of the bank branches for in person assistance.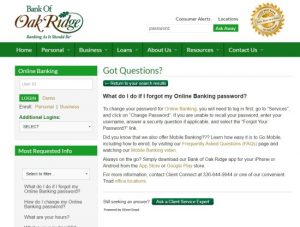 Once you've reset your password, you will regain proper access to your account and may again, login with your User ID and new Password, to continue your banking business.
HOW TO ENROLL
Step 1 – If you're prepared to enroll in online banking services, begin by reviewing the "Personal Enrollment Agreement." Prior to proceeding with online banking set up, you must read and agree to the bank's terms.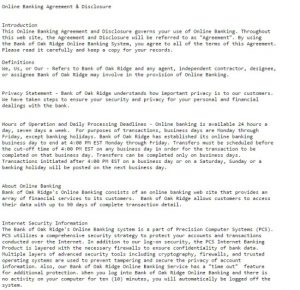 Step 2 – After you've read and agreed to the terms, when you click "I Agree," you will be taken to the second step of the enrollment process. You will need to complete the fields as they are presented in the "Personal Enrollment Form." At the end, this bank requires human verification, therefore you must type the characters you see in the photo, into the text box. Click "Submit"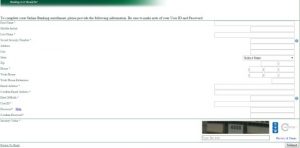 Step 3 – From this point, when you click "Submit," you will be prompted privately through the rest of the secure online banking set up process. Once complete, you will be able to login with your secure User ID and Password to review and transact.