Bank of O'Fallon offers personal and commercial banking services. The bank was founded in 1960 and is based in O'fallon, Illinois. Bank of O'Fallon operates as a subsidiary of Security First Bancshares Inc.
Bank Official Website:
• www.bankofallon.com
Bank Customer Service Telephone:
• 1-618-632-7276
Bank Routing Number:
• 081023019
Bank Swift Number:
• This Bank is not part of the SWIFT network, so there is no number.
Online Banking Mobile Apps:
• iPhone
• iPad
Branch Locator:
•Branch Finder Link
HOW TO LOGIN
Step 1 – Go to www.bankofallon.com – When you arrive to the home page, in the upper left side of the page, click the "Online Banking Login" button.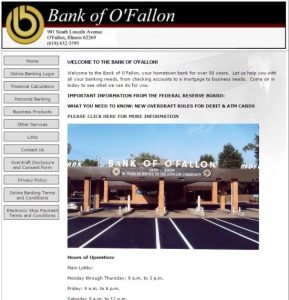 Step 2 – As you enter the "Sign in to internet banking " page, enter your User Name into the field provided. Click "Login."  Enter your User Name into the field provided.

Step 3 – Once you've logged in, you'll be guided to a security page where you will answer a security question you had created at enrollment. Enter your answer to your individual security question. Click "Submit." This is designed to protect your information and therefore your account.

Step 4 – From this point you be taken to a password page where you will enter your chosen password. Once you've successfully passed all of the login steps, you will be guided to your online banking account services and may then begin conducting your online banking business.
Forgotten Password – Should you find that you are unable to remember your password you may need to reset your password. When you reach the password reset page, to begin, enter your User Name. Click "Submit"

After you've submitted your User Name, you will be taken to a security question page. You will then be guided through the secure reset process.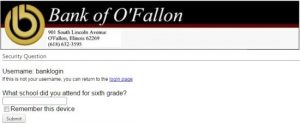 Once you've completed the steps, you will be able to reset your password and regain access to your Online Banking services.
HOW TO REGISTER
Step 1 – When you are ready to register in this bank's online banking services, begin by going to the Online Banking Registration Page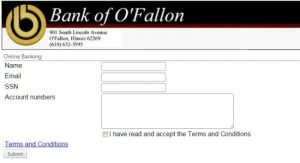 Step 2 – In order to have the ability to proceed in your registration process, you must complete required the fields provided. Most importantly, you will be required to review the "Terms and Conditions" – Once you have clicked the acknowledgement box and click "Submit" you will be stating that you are in agreement with the terms.
Step 3 – As you submit your information, from this point you will be privately prompted through the remaining portions of your registration for your protection. After you have completed all of the steps to set up your account you will then have the ability to login with your User Name and Password. You may then review your balance and complete any needed banking transactions.