Bank of Utica offers general commercial banking services. The Bank operates through its office in Utica.
Bank Official Website:
• www.bankofutica.com
Bank Customer Service Telephone:
• 1- (800) 442-1028
Bank Routing Number:
• 021311383
Bank Swift Number:
•  BAUTUS31
Online Banking Mobile Apps:
• iPad
• iPhone
• Android
Branch Locator:
•Branch Finder Link
HOW TO LOGIN
Step 1 – Go to www.bankofutica.com – When you arrive at the home page, at the top center-left of the page, enter your User Login. Click "Login"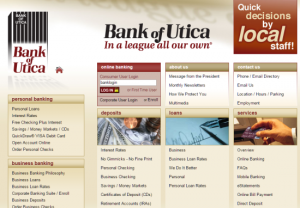 Step 2 – After you've submitted your ID you'll be taken next to the Password login page where you will enter your password. Click "Submit"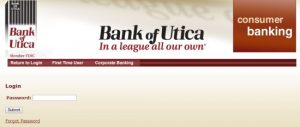 Step 3 – Once you've entered and submitted your credentials, you will then be guided to your Online Banking account services. You will then be able to review any account information and do any banking transactions.
Forgotten Password – Should you find that you're unable to recall your password, from the password login page click the "Forgotten Password" link. When you reach the Forgotten Password page, you will need to complete the required fields. Click "Submit."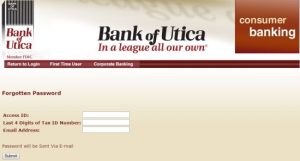 Once you've submitted the information needed, you will receive and email from the system at the email address you have on file with the bank. When you receive the email containing your password, you will again have access to your Online Banking services.
HOW TO ENROLL
Step 1 – When you're ready to enroll in online banking services go to the "First Time User" page and complete all of the fields on the form. Click "Submit"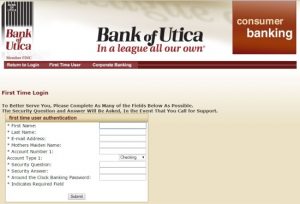 Step 2 – Once you've submitted your information, you will have the ability to login to your account and conduct any of your banking business, privately at your own discretion.