Bank Midwest provides banking products and services in Iowa, Minnesota, and South Dakota. It offers personal checking accounts, debit cards, savings accounts, CDs, IRAs, online and mobile banking, gift cards, and identity management, as well as mortgages, lot and construction loans, home equity loans, auto and personal loans, student loans, and credit cards; business and farm checking and savings accounts, online and mobile banking, payments and receipts, and gift cards, as well as farm loans and credit, existing business loans.
Bank Official Website:
• www.bankmw.com
Bank Customer Service Telephone:
•  1.800.867.2265
Bank Routing Number:
• 091201643
Bank Swift Number:
• This BANK is not part of the SWIFT network, so there is no number.
Online Banking Mobile Apps:
Branch Locator:
•Branch Finder Link
HOW TO LOGIN
Step 1 – Go to the Bank Midwest Website In the "Sign In To Bank Online" box in the top left of the home page, enter your Access ID. Click the sign in button
Step 2 – Once you've clicked the sign in button you will be taken to a separate page where you will enter your password. You will then gain access to your personal account
Forgotten Password – In the event you are unable to remember the password to your account, you must again go to This web page  Enter your Access ID and allow it to take you to the password page. You would then click the "Forget your password?" link that is located on the password page. You will receive a prompt to re-enter your Access ID. Once you have re-entered your Access ID, the system will email your password to the email address you have provided for your account.
HOW TO ENROLL
Step 1 – Return to the bank home page  In the top left of the page in the "Sign In To Bank Online" box and click the bubble beside "Personal." Click the "Sign up for online banking" link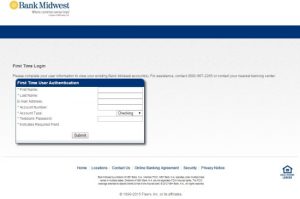 Step 2 – In the fields provided, enter the following required information:
First name
Last name
email address (this is optional)
Your account number
Your account type
Your "Telebank" password- this is a number you had chosen upon opening of your account
Click "Submit"
Once you have clicked submit you will be taken to a new page where you will continue your enrollment process. You must then provide the following:
Enter a "new user code" and password. This will allow access to your account.
Set your security data
You must review and accept the "First Time User Agreement"
You must read and either accept or decline eStatement Enrollment
After you have completed all of the steps required, you will then be able to login with your Access ID and Password to review your account and take advantage of all of it's features.