Bank of Walterboro, a commercial chartered bank, provides personal and business banking products and services. Its personal banking products and services include checking and savings accounts, debit and credit cards, certificates of deposit, and individual retirement accounts; and business banking products and services include business checking and savings, small business checking, business checking plus, non profit/sole proprietorship, and commercial money market accounts.
Bank Official Website:
• www.bankofwalterboro.com
Bank Customer Service Telephone:
•  1-843-549-2265
Bank Routing Number:
• 053202114
Bank Swift Number:
• This BANK is not part of the SWIFT network, so there is no number.
Online Banking Mobile Apps:
• iPad
• iPhone
• Android
Branch Locator:
•Branch Finder Link
Bank of Walterboro Online Banking Login
HOW TO LOGIN
Step 1 – Go to www.bankofwalterboro.com – At the top of the home page, click the "Personal" link or "Business" if you're working with a business account. This will take you directly to the Access ID page. Enter your Access ID. Click "Submit"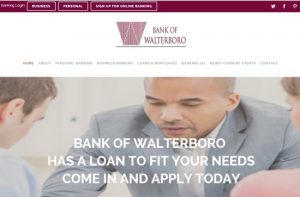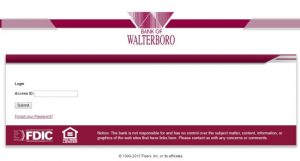 Step 2 – When you have submit your Access ID, you will then be taken to the Password Page. Enter your Password. Click "Submit"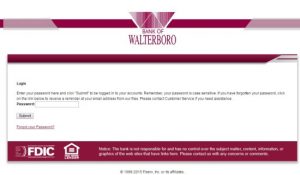 Step 3 – Once you've successfully submitted your Access ID and Password, you will then be directed to your Online Banking account page. You will now be able to do login any time 24 hours per day to do your banking business.
Forgotten Password – Should you find that you're unable to remember your password, you may need to reset your password information. You may go to the "Forgotten Password" page and enter the required security information. Click "Submit".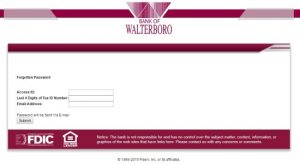 Once you've submitted your information, the system will email your password to the email address that you have on file with the bank. You will then regain access to your online banking account services and may resume doing your banking business.
HOW TO ENROLL
Step 1 – If you're prepared to enroll in Online Banking services, begin by going to the "First Time Login" page.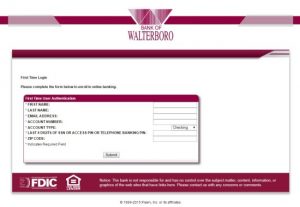 Step 2 – Once you've reach the page, complete all of the required fields. Click "Submit." After you've submitted the required information, you will be guided through the remainder of the enrollment process privately as you set up your login and security steps. Once completed, you will then be able to login to your account and begin conducting your reviews and transactions.