Bank of Wrightsville provides banking products and services for small businesses and families. It offers checking accounts, now accounts, savings accounts, loans, money market accounts, certificates of deposit, commercial checking accounts, individual checking accounts, and online banking. The company was founded in 1897 and is based in Wrightsville, Georgia. Bank of Wrightsville operates as a subsidiary of Wrightsville Bancshares, Inc.
Bank Official Website:
• www.bankofwrightsville.com
Bank Customer Service Telephone:
• 1-(478) 864-3347
Bank Routing Number:
• 061203477
Bank Swift Number:
• This BANK is not part of the SWIFT network, so there is no number.
Online Banking Mobile Apps:
• No Mobile Apps Available
Branch Locator:
•Branch Finder Link
HOW TO LOGIN
Step 1 – Go to www.bankofwrightsville.com – As you arrive to the home page, under "Internet Banking Login" located at the bottom right of the page, enter your User Name. Click "Submit"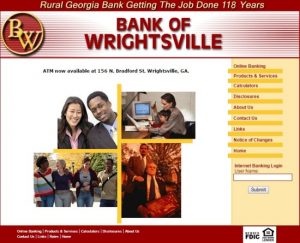 Step 2 – You will now need to acquire a one time security code. Click "Continue with Security Code"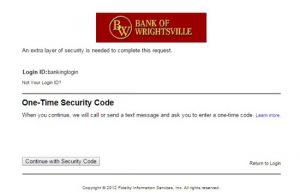 Step 3 – After continuing your process, you will need to select your method of contact, phone call or text message. Simply click the bubble in front of your phone number or select "Text Message." Click "Continue"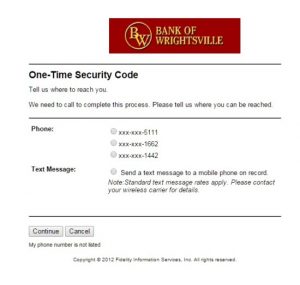 Step 4 – You must provide your telephone number especially if you select "Text Message" to receive your one time code so that you may proceed. You will also need to click the "Terms of Use" link and review the terms inasmuch as click any button of continuation in the process will indicate your agreement to the terms. Enter your mobile number and click "Send Text Message."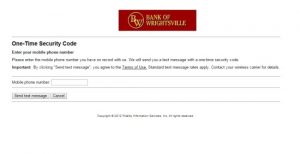 Step 5 – Once you've completed all of the login requirements, you will then be able to login to your Online Banking services and proceed with doing your banking business.
Forgotten Password – You will need to contact customer service or walk into a banking location for further information with regard to password information.
HOW TO ENROLL
Step 1 – When you're ready for enrollment, you will need to begin with the "Enrollment Form." Complete the form with all of the information required. Once completed, click "Proceed" to move forward with verification of your information.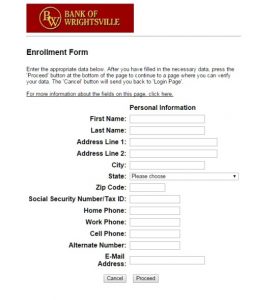 Step 2 – Once you've verified your information and therefore concluded your enrollment process, you will then be able to login in with your new login credentials and begin conducting your banking business online 24/7.