Bank of Yates City provides banking services to consumers, small businesses, and agricultural customers. It offers personal accounts, which include checking accounts; savings accounts; and investment accounts, such as IRAs, insured money market accounts, and certificates of deposit. The company also provides business accounts, such as business checking accounts.
Bank Official Website:
• www.bankofyatescity.com
Bank Customer Service Telephone:
• 1-(309) 245-4000
Bank Routing Number:
• 071116813
Bank Swift Number:
• This BANK is not part of the SWIFT network, so there is no number.
Online Banking Mobile Apps:
• No Mobile Apps Available
Branch Locator:
•Branch Finder Link
HOW TO LOGIN
Step 1 – Go to www.bankofyatescity.com – Once you've reached the home page, in the "Online Banking" box at the top right side of the page, you would enter your User ID and Password into their respective boxes. Click "Login"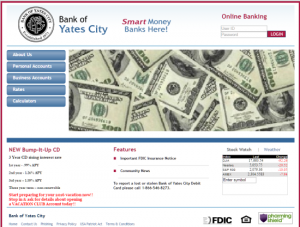 Step 2 – After you've entered your online banking credentials, you will be directed to your Online Banking page, where you may proceed to do your banking business.
Forgotten Password – Should you find that you are unable to recall your password information, this bank requires that you call customer service or walk into the bank and speak with a customer service representative for a password reset. As soon as your password information has been reset, you will regain access to your account and may resume your banking activities.

HOW TO ENROLL
Step 1 –  If you're prepared to enroll in online banking, this bank requires that you walk into one of the branches to get started. For the safety and integrity of your banking experience a bank visit is required to protect the integrity of your account information.

Step 2 – Once you've enrolled in online banking services, you will be able to login to your account from the home page and begin conducting account reviews and transactions.