As of July 1, 2004, Bank One Corporation was acquired by JPMorgan Chase & Co. Bank One Corporation, a multibank holding company, provides domestic retail banking, finance, and credit card services; worldwide commercial banking services; and trust and investment management services to commercial and business customers and consumers. It operates banking offices in Arizona, Colorado, Florida, Illinois, Indiana, Kentucky, Louisiana, Michigan, Ohio, Oklahoma, Texas, Utah, West Virginia, and Wisconsin; and in certain international markets.
Bank Official Website:
• am.jpmorgan.com
Bank Customer Service Telephone:
• 1-312-732-4000.
Bank Routing Number:
• 122100024
Bank Swift Number:
•CHASUS33 XXX
Online Banking Mobile Apps:
• iPhone
• Android
• iPad
Branch Locator:
• Branch Finder Link
Bank One (JP Morgan Private Banking) Online Banking Login
HOW TO LOGIN
Step 1 – Go to www.jpmorgan.com – As you arrive to the home page, under "Client Login" located at the top right corner of the page, from the drop down box, select the type of account you would like to arrive to once you've logged in. In this case we will select " US Private Banking." This will take you immediately to a new login page for private banking. Enter your User ID and Password. Click "LogOn"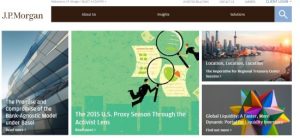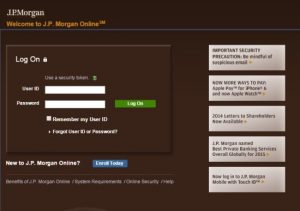 Step 2 – Once you've submitted your login credentials, you will then be guided to your Online Banking account page, where you will be able to conduct any desired banking business.
Forgotten Password – If you find you're failing to recall your password, go to the "Forgot User ID or Password?" page. Enter the required information into each category. Click "Next"
After submitting your information you will be prompted privately, through the remaining three security step. Once completed, you will again have access to your Online Banking account and may resume your business with your account.
HOW TO ENROLL
Step 1 – When you're ready to Enroll in online banking, begin by going to the "Enrollment" page. Enter the required information on the first page of the enrollment page. Click "Next"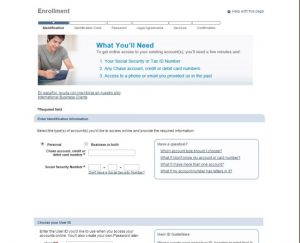 Step 2 – Once you've provided the information required to begin your enrollment, you will then be taken through the rest of the enrollment process privately for the protection of your information and selections. As you complete the enrollment process, you will be able to login any time day or night and do any necessary banking business.