Beneficial State Bank provides personal and business banking products and services. Its products and services include loans, checking accounts, savings and CD accounts, online banking, credit cards, mobile banking, online cash management, merchant credit card processing, and employer services. The company serves individuals, businesses, and nonprofit organizations. Beneficial State Bank was formerly known as One PacificCoast Bank, FSB and changed its name to Beneficial State Bank in July 2014.
Bank Official Website:
• beneficialstatebank.com
Bank Customer Service Telephone:
• 1- 888.326.2265
Bank Routing Number:
• 121182056
Bank Swift Number:
• This BANK is not part of the SWIFT network, so there is no number.
Online Banking Mobile Apps:
• iPad
• iPhone
• Android
Branch Locator:
• Branch Finder Link
HOW TO LOGIN
Step 1 – Go to beneficialstatebank.com – Inside of the "Online Banking Login" box, at the top right side of the page, enter your Access ID. Click the double arrow just below the Access ID box.
Step 2 – After you've submitted your Access ID and clicked the arrows, you will be taken to the secure page where you will enter your password. Click "Submit"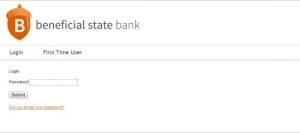 Step 3 – When you have successfully submitted your login credentials, you will then be directed to your Online Banking page where you may then begin conducting your online banking business any time day or night.
Forgotten Password – Should you find that you're unable to remember your password, go to the "Forgotten Password" page. You may use this same procedure if you're unable to recall your ID. Enter all required information into the boxes provided in the form. Click "Submit"
Once you've submitted your security information, you will receive an email to the email address you have on file with the bank. This email will contain your password. You will then have gained access to your online banking services and will be able to resume conducting your banking activities.
HOW TO ENROLL
Step 1 – If you're ready to enroll in online banking services with this bank go to the "First Time User" page. Here you will enter all of the required information needed to open your online account. As well, you will need to open the "Terms and Conditions" link at the end of the page and review the terms. Once you submit this information, it will be assumed that you agree to the terms and conditions. Click "Submit"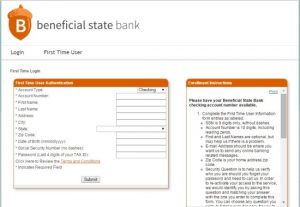 Step 2 – After submission of your required enrollment information, you will then be able to login to your Online Bank account and proceed with any reviews and/or banking transactions, 24 hours daily.