Benton State Bank provides banking products and services. The company offers deposit accounts, including hometown advantage checking, regular checking, NOW checking, super NOW checking, money market, and statement savings accounts, as well as certificates of deposit, MasterMoney bank cards, and PULSE cards. It also provides document services, cashier's checks, safe deposit boxes, money orders, overdraft protection and sweep authorization, account balancing/research/reconcilement, and other services; and Internet and mobile banking services.
Bank Official Website:
• www.bentonbank.com
Bank Customer Service Telephone:
• 1-(608) 759-3600
Bank Routing Number:
• 075904513
Bank Swift Number:
• This BANK is not part of the SWIFT network, so there is no number.
Online Banking Mobile Apps:
• iPad
• iPhone
• Android
Branch Locator:
• Branch Finder Link
HOW TO LOGIN

Step 1 – Go to www.bentonbank.com – In the center of the page, in the box labeled "Internet Banking," click the "Internet Banking Login" link. This will guide you to the page where you will enter your User ID. Click "Continue"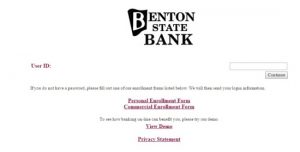 Step 2 – After you've submitted your User ID, you will then be taken to a security page where you will be required to answer a security question. Read the question and supply the answer in the text box provided. Click "Submit"

Step 3 – After submitting the answer to your security question, you will then be taken to a secure page where you will enter and submit your password. This will direct you to your Online Banking page, where you may proceed with your online banking activities.
Forgotten Password – Should you find you're unable to remember your password, you will then be required to either call the bank or walk into the bank for assistance with a banking representative for a password reset. As soon as your password is reset, you will again have access to your online banking services and may continue your banking business.
HOW TO ENROLL
Step 1 – When you are ready to enroll in online banking, this bank requires that you begin by reviewing and agreeing to the "Personal Enrollment Form Agreement." This must be done prior to being allowed to proceed through the rest of the enrollment process. Once you've reviewed the agreement, click "I Agree"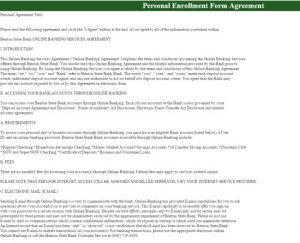 Step 2 – By clicking "I Agree" after reviewing the terms, you will then be guided to the "Enrollment Form" where you must enter all of the required information into the boxes provided. At the end of the form, you will find that you must provide human verification. Enter the characters from the picture into the text box. Click "Submit"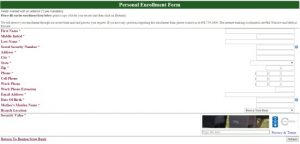 Step 3 – Once you've completed and submitted the personal information, you will be taken privately through the remainder of your enrollment. This will entail choosing an ID, a password and setting up security steps to protect your information. Once enrollment is complete, you will have the ability to login with your chosen credentials and conduct any reviews and transactions as you wish, when you wish.