Biddeford Savings Bank, a community bank, provides financial products and services for individuals, families, and businesses. It offers personal banking services, such as checking accounts, including eChecking, checking plus, Visa debit cards, Visa credit cards, and switch kits; savings accounts, such as CDs, IRAs, and holiday club accounts; and loans, which include mortgages and first time homebuyer programs.
Bank Official Website:
• www.biddefordsavings.com
Bank Customer Service Telephone:
• 1-866-767-8265
Bank Routing Number:
• 211274395
Bank Swift Number:
• This BANK is not part of the SWIFT network, so there is no number.
Online Banking Mobile Apps:
• iPad
• iPhone
• Android
Branch Locator:
• Branch Finder Link
Biddeford Savings Bank Online Banking Login
HOW TO LOGIN
Step 1 – Go to www.biddefordsavings.com – In the "Online Banking" box, in the top right corner of the home page, enter your User ID. From the drop down box, you may click the arrow and select what area of the web site you would like to arrive to, once you've logged in. Click "Sign In"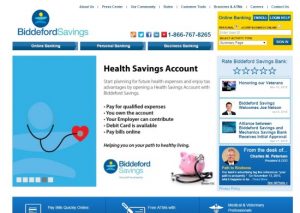 Step 2 – Once you've submitted your User ID and clicked the sign in button, you will arrive at a separate, secure page where you will enter your password. Click "Submit"

Step 3 – After submission of your online banking login credentials, you will be directed to your Online Banking page where you will then be able to conduct your banking business at your convenience.
Forgotten Password – Should you find that you're unable to remember your password go to the "Forgotten Password" page. Enter the required information. Click "Submit"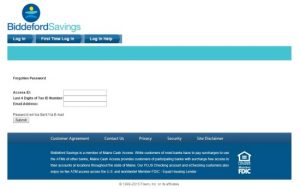 Once you've provided your security information and submitted it to the system, you will receive an email containing your password, sent to the email address you have on file with this bank.
HOW TO ENROLL
Step 1 – Should you be prepared to enroll in online banking services, you would need to begin by going to the "First Time Login" page. You must be logged in and choose an account type to begin.

Step 2 – Once you're logged in, you will be prompted through your enrollment process privately, in order to better protect your online banking information. You will provide your personal information, review and accept terms and conditions, select User ID and a password, as well, you will set up security steps. Once completed, you will then be able to login to your Online Banking account and conduct any of your banking business any time 24 hours daily.