Big Sky Western Bank Inc is a Financial Institution with 5 branches located in Bozeman, Four Corners, Belgrade and Big Sky Montana. We are dedicated to serving Gallatin Valley communities. We work hard to bring you the best rates in the industry combined with the most secure banking practices. We are known for providing one-on-one client services with comprehensive banking solutions for our clients.
Bank Official Website:
• www.bigskybank.com
Bank Customer Service Telephone:
• 1-(406) 587-2922
Bank Routing Number:
• 092901654
Bank Swift Number:
• This Bank is not part of the SWIFT network, so there is no number.
Online Banking Mobile Apps:
• No Mobile Apps Available.
Branch Locator:
•Branch Finder Link
HOW TO LOGIN
Step 1 – Go to www.bigskybank.com – In the "Online Banking Center" box, located at the top left side of the home page, enter your User ID. Click "Submit"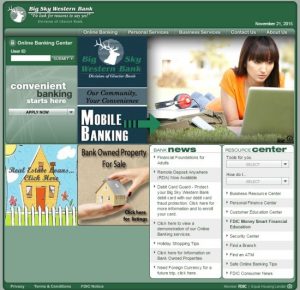 Step 2 – After submission of your User ID, you will next be guided to a separate and secure page where you will identify an image you had selected at enrollment. If the image is correct, enter your password and click "Submit." If you find, however, that there is no image present or the image if different than the one you selected, do not enter a password but contact the bank as immediately as possible.

Step 3 – Once you've successfully submitted your login credentials, you will then be directed to your Online Banking page where you may proceed with your Online Banking business.
Forgotten Password – Should you discover that you're unable to remember your password, this bank requires that you either call the bank or walk into your local banking center and speak with a banking representative for a password reset. After you've received your password reset, you will regain access to your account and may resume your Online Banking activities.
HOW TO ENROLL
Step 1 – If you're prepared to enroll in online banking services, begin by going to the "Online Banking Application" page. Read the information and requirements. Once you understand what is needed and required, click "I Agree" at the bottom of the page. You will then be sent to the next step of your enrollment process.

Step 2 – The second step will be the "Verification Information" page where you will enter your required information into the boxes provided and click "Continue"

Step 3 – From here you will be privately prompted through the remainder of your enrollment process. You will select a User ID, password and create security layers to protect your online information. Once your enrollment is complete, you will gain access to your Online Banking account, where you will be able to login and do nearly all of your banking 24 hours daily, any day of the year.