Bank Leumi USA provides commercial and private banking products and services for customers in the United States. Its commercial banking products and services include cash management; foreign exchange; lending products, such as acquisition and bridge financing, bridge loans, commercial loans and lines of credit, construction loans, equipment leasing financing, government agency funding, import and export financing, owner-occupied, real estate construction and bridge loans, revolving lines of credit, term loans, and working capital; trade finance, including documentary and clean collections, commercial letters of credit, acceptance financing, international banking .
Bank Official Website:
•www.leumiusa.com
Bank Customer Service Telephone:
• 1 (800) 892-5430
Bank Routing Number:
• 122236244
Bank Swift Number:
•LUMIUS3N
Online Banking Mobile Apps:
• iPhone
• Android
• iPad
Branch Locator:
•Branch Finder Link
HOW TO LOGIN
Step 1 – Go to www.leumiusa.com – Toward the top left of the home page, click the "Leumi Online" link. This will take you to the Leumi Online, login page. Enter your User ID and Password into their respective fields. Click "Login"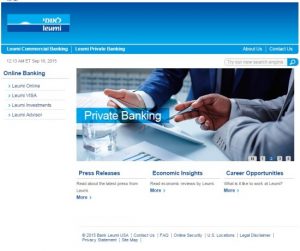 Step 2 – Once you've entered your unique login credentials, you shall then be directed to your private Online Banking page where you will be able to review and manage you account and conduct any necessary transactions.
Forgotten Password – If you are a Consumer client, you  may click on the 'contact us' email on the Leumi Online login page. You also have the option of  call the bank at 1.800.892.5430 from anywhere in the U.S. If you are a client from outside the U.S. you may call 1.917.542.2343. You may call Monday through Friday, 8:00 a.m. to 7:00 p.m. (EST) to have your password reset. You'll be asked a series of questions in order to verify your identity. If you are a Corporate client, you must contact your Corporate Administrator
HOW TO ENROLL
Step 1 – Currently this bank does not accommodate self-enrollment on it's website. This is to protect the integrity and safety of your private information. If you are a client and would like to sign up for any of the bank's online banking services, you may do so only by contacting your relationship manager for the proper documentation.
Step 2 – Once you've completed the online banking documentation, may take it to a banking location or return it to you relationship manager for confirmation and processing. One these steps have been completed, your relationship manger will contact you directly with your private access information
Step 3 – You will now have the ability to access your online account for review and management