BLC Community Bank offers personal and commercial banking services. The bank was founded in 1906 and is based in Little Chute, Wisconsin. BLC Community Bank operates as a subsidiary of Independent Bancorp., Limited.
Bank Official Website:
• www.blccb.com
Bank Customer Service Telephone:
• 1- (866) 905-2265
Bank Routing Number:
• 075905868
Bank Swift Number:
• This Bank is not part of the SWIFT network, so there is no number.
Online Banking Mobile Apps:
• iPhone
• Android
• iPad
Branch Locator:
•Branch Finder Link
HOW TO LOGIN
Step 1 – Go to www.blccb.com – In the upper right corner of the web page click the round, "Login to Online Banking" link. This will take you to a secure location to enter your Access ID.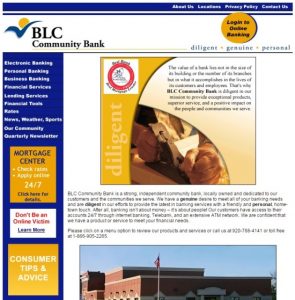 Step 2 – Once you've entered the Access ID page, enter your Access ID. If you wish to go to a specific part of the web site upon sign in, select your location from the drop down box. Click "Submit"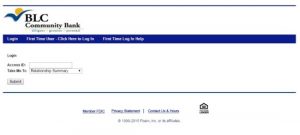 Step 3 – After submission of your Access ID, you will be guided to a separate, secure page where you will enter your password. "Click "Submit"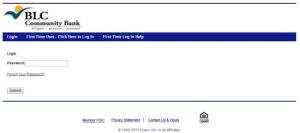 Step 4 – After you've entered and submitted your online login credentials, you will be directed to your Online Banking page where you may conduct any reviews and transactions any time you wish.
Forgotten Password – Should you find that you're unable remember your password, go to this "Forgotten Password" page. Complete the required information. Click "Submit"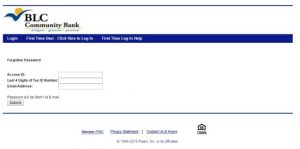 Once submitted, you will receive an email containing your password. You will regain access to your account and may resume your online banking business.
HOW TO ENROLL
Step 1 – If you're prepared to enroll in Online Banking, this bank requires that you either call the bank or go to the banking center. This method is required in order to protect your banking information.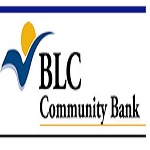 Once you've enrolled with a banking representative, you will be able to login with your selected Access ID and Password and will have the capability to do your online banking any time, day or night.